The 10 Ways Your Cooking Changes in the Fall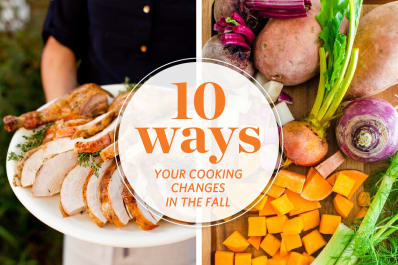 (Image credit: Leela Cyd/Faith Durand)
Here are just a few reasons to be excited that fall has officially started: Apples, squash, and pumpkins are finally coming to the market; its cool enough to turn the oven on to roast a chicken or those vegetables; and your Dutch oven has come out of storage. While much of our cooking stays the same every season, fall is the most marked and we celebrate by putting up the grill until spring and dusting off a few of our favorite cool-weather cooking techniques. Here are 1o ways cooking at home changes from summer into the fall.
1. You eat more apples, pears, and plums.
One fall tradition our whole family looks forward to each September is our annual apple picking day. We also take advantage of pears, plums, and grapes that come to market this time of year.
Read more: 30 Essential Apple Recipes for Fall
2. You roast all the things.
Chickens, squash, and even apples are transformed by the warm, dry heat of a hot oven. The kitchen is finally cool enough to crank it up.
Read more: How To Roast Any Vegetable
3. You bake a lot.
Warm up your stand mixers, your whisks, and your mixing bowls and pretend like you're a contestant on the Great British Bake Off. Personally, the cooler weather always makes me want to dive into bread-baking again.
Read more: 23 Homemade Breads to Fit Any Schedule
4. You rely on your Dutch oven again.
Said bread-baking — especially the no-knead kind — can happen in your Dutch oven, and so can a soup to serve alongside that freshly baked bread. Whole chickens in milk, pork, and beef roasts are all made better by using the handy, heavy-duty Dutch oven.
Read more: Use Your Dutch Oven: 20 Recipes to Make Right Now
5. You make more slow cooker soups.
While the slow cooker is an amazing tool for cooking without heating up the kitchen in the summer, it should see plenty of use this fall too. The slow cooker is ideal for big-batch soups and chilis, but it also makes easy work of applesauce or apple butter.
Read more: 15 Fall Dinners from the Slow Cooker
6. You embrace long, slow braises.
Once the weather starts to cool, you have full permission to turn the oven or stove into a braise-making machine. Pot roasts, chile verde, and even cabbage can be turned into tender, mouthwatering meals using this low-and-slow method.
Read more: Love Me Tender: 15 Braises from The Kitchn
7. You refresh all your warm spices.
You know how you should replace most spices within a year? Use the change of season to restock of all your warm spices (think: cinnamon, nutmeg, cayenne, and even your homemade pumpkin spice blend). Using fall as a time for replacing these means you'll have plenty of fresh spices as you head into holiday baking, too.
Read more: 10 Chai-Spiced Recipes for Fall
8. You welcome oats and oatmeal with open arms.
A hearty pot of oatmeal is my favorite fall breakfast and it can be made and served a myriad of ways from baked to slow cooked. It's also a wonderful season to perfume your house with the smell of homemade granola.
Read more: The Ultimate Guide to Oatmeal
9. You eat more squash, sweet potatoes, and onions.
Spring and summer are for berries, tomatoes, and summer squash, but fall is for onions, potatoes, and hard squashes. Not only are they less expensive now, but they also taste their best and fill our primal need for heartier fall fare.
Read more: 12 Fall Vegetables You Should Know How to Cook
1o. You still grill.
Having lived in the South for the last 10 years, I can affirm that many of us are actually taking advantage of the cooler temps and continuing to fire up the grill now instead of sweating over it in the summer heat. You can even cook your Thanksgiving turkey on a grill.
Read more: 5 Ways To Incorporate Grilling into Your Fall Cooking