How To Cook Classic Beef Pot Roast in the Oven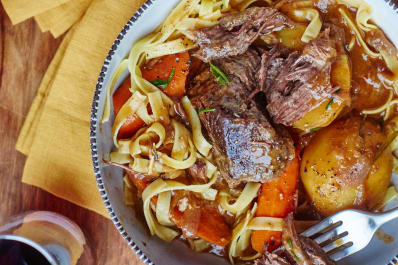 (Image credit: Lauren Volo)
Pot roast was a one-pot wonder long before that was a term for homey dishes that are both inexpensive and require little hands-on cooking. This dish has long been the Sunday night dinner that makes a large number of servings (and incredible leftovers) while perfuming the whole house. After a few hours of cooking, you have tender pieces of beef in a rich, meaty glaze, surrounded by melt-in-your-mouth carrots, potatoes, and onions all soaked in the beef's gravy. It's a dish only a long, slow braise could deliver.
While it is near impossible to screw up a pot roast, there are a few steps that make this dish worthy of its celebrated status. Choosing the right cut of meat and the best potatoes for braising, and making a lush gravy are chief among them. Now, I haven't tasted your mother's pot roast, but I can say without question that this is the best beef pot roast you can make at home in your own oven.
Classic Beef Pot Roast: Watch the Video
Everything You Need to Know About Cooking Pot Roast in the Oven
I will make no promises of this recipe being either easy or quick, because in searching for the best beef pot roast I found two things make for a better pot roast: attention to detail and time. When cooking three different components in one pot — a beef roast, vegetables, and a beef gravy — the details are important. Let's start with the beef.
(Image credit: Lauren Volo)
Avoid these missteps: 5 Mistakes to Avoid When Cooking Pot Roast
(Image credit: Lauren Volo)
The Best Beef for Pot Roast
Tough, inexpensive cuts of beef are best for pot roast. Look for a chuck, brisket, or round roast in the three-pound range for this recipe. The connective tissue that makes these cuts tough are actually what makes them ideal for pot roast. While the meat braises, the tissues cook down, creating a velvety broth that flavors and moistens the meat.
While the benefits of searing meat before cooking it are often debated, browning the beef for pot roast is required for a single reason: flavor. Coating the beef in a little flour and browning it in the same pot used later for braising gives us lots of lovely browned bits to scrape up during deglazing to build our gravy upon.
Read more: The Best Cuts of Beef for Pot Roast
The Best Vegetables for Pot Roast
To be honest, I find the braised vegetables from the pot roast more crave-worthy than the beef itself. Having tried everything from parsnips to turnips in pot roast, here's what works best for pot roast.
Carrots: Large carrots, never baby ones, with a nice 1/2-inch-thick minimum diameter at their tops. Smaller carrots will become too soft in the gravy.
Potatoes: Go for Yukon Gold potatoes over Russets, as they have more flavor and a tender, toothsome body when braised.
(Image credit: Lauren Volo)
The Best Wine for Pot Roast
Malbec and Côtes-du-Rhône are two of my favorite types, and I always have at least one bottle of each at home (if I'm living life the right way!). They are very drinkable and it is easy to find a really great bottle for less than $12. I always cook with wines that I enjoy drinking because the flavor concentrates and permeates the whole dish. Both types are great for cooking because they have big fruit flavor and even some herbal notes that highlight the herbs that are cooked with the pot roast. They aren't too tannic or acidic either — a good versatile choice for drinking and cooking.
(Image credit: Lauren Volo)
The Step-by-Step Guide to Making Beef Pot Roast
Pot roast is a mostly hands-off endeavor, but a few moments of hands-on cooking will make for a better pot roast.
Sear the roast. There is some debate about the virtues of searing, but with pot roast, searing is purely a flavor enhancer. Searing browns the roast, adding flavor to the meat itself, but the real flavor boon comes from the browned bits left behind by searing.
Deglaze the Dutch oven with wine. Post-searing, sauté some sliced onions in the leftover fat and then deglaze the whole thing with red wine. You can use broth or even water to deglaze, but wine adds a brightness to braised meats that other liquids can't do alone.
Braise just the meat first. Here's the trick to getting perfectly cooked meat and vegetables: Cook the meat alone at first. Cover your Dutch oven and stick the whole thing in a low oven for an hour and 45 minutes.
Add the potatoes and carrots part-way through cooking. Once the meat has had some time to relax in its warm braising bath, add the chopped potatoes and carrots to the pot.
Make a beurre manié to thicken the gravy. During the last few minutes of cooking, make a paste of butter and flour known as a beurre manié. Similar to a roux, making a paste first separates the flour particles by coating them in fat, which then thickens without clumping.

What the Heck Is Beurre Manié?
Beurre manié is a brilliant way to thicken soups, stews, and gravies at the end of cooking. It is essentially an uncooked roux and translates roughly to mean "kneaded butter." One of the nicest things about beurre manié is that you can make a big batch, divide it, and freeze for future use, whisking it into gravy as needed for thickening without any additional cooking.
Learn more: Word of Mouth: Beurre Manié
(Image credit: Lauren Volo)
How to Serve Pot Roast
Once the roast is supple and tender, you can shred or chop the roast and return it to the pot. You can serve it straight-up in bowls with crusty bread for sopping up all that rich gravy. It is often served over buttered egg noodles, or you can really gild the comfort-food lily and serve the roast and gravy over mashed potatoes.
How To Cook Pot Roast
Serves 6 to 8
What You Need
Ingredients
For the pot roast:

3

pounds

boneless beef chuck roast

2

teaspoons

kosher salt, divided

1

teaspoon

freshly ground black pepper, plus more for serving

4

tablespoons

all-purpose flour, divided

2

tablespoons

olive oil

2

large onions, thinly sliced (about 2 cups)

1

cup

red wine, such as Malbec or Côtes-du-Rhône

2

cups

unsalted beef broth

3

large cloves garlic, smashed

3

whole fresh thyme sprigs

2

bay leaves

1

whole fresh rosemary sprig

1

tablespoon

tomato paste

4

teaspoons

Worcestershire sauce

6

medium carrots, peeled and cut into 1 1/2-inch pieces

4

medium Yukon Gold potatoes, peeled and cut into 1 1/2-inch pieces

1

teaspoon

malt vinegar

2

tablespoons

unsalted butter, at room temperature
For serving:

Buttered egg noodles or crusty bread

Leaves from 8 sprigs fresh thyme, finely chopped

Leaves from 2 sprigs fresh rosemary, finely chopped
Equipment

7-quart Dutch oven

Tongs

Wooden spoon

Cutting board

Chef's knife

Large plate

Spatula

Small bowl

2

forks
Instructions
Heat the oven: Arrange a rack in the middle of the oven and heat to 325°F.

Season the roast and coat in flour: Season the meat with 1 1/2 teaspoons of the salt and the pepper. Sprinkle 2 tablespoons of the flour over the entire roast until evenly coated.

Sear the roast: Heat the oil in a 7-quart Dutch oven over medium-high heat until shimmering. Add the roast and brown on all sides, including the ends, until you have a deep golden sear, about 5 minutes per side. Transfer the roast to a large plate and set aside.

Sauté the onion: Reduce the heat to medium and add the onions and remaining 1/2 teaspoon salt. Sauté until softened and beginning to brown around the edges, about 4 minutes.

Deglaze: Add the red wine and scrape up the beautiful browned bits on the bottom of the pan.

Add flavorings and roast to the pot: Stir in the beef broth, garlic, whole thyme sprigs, bay leaves, whole rosemary sprig, tomato paste, and Worcestershire sauce. Return the meat and any juices to the pot.

Cover and braise: Bring to a simmer, then cover and place in the oven. Braise for 1 hour and 45 minutes. The meat should appear tender, but will not be falling apart yet.

Add the root vegetables: Uncover and nestle the carrots and potatoes into the braising liquid around the roast. Cover again, return to the oven, and braise until the roast pulls apart easily and the vegetables are tender but not mushy, for 1 1/2 to 2 hours more.

Shred the meat: Remove the pot from the oven and set over low heat. Transfer the roast to a large bowl and shred into large pieces with 2 forks; set aside. Remove and discard the herb stems and bay leaves.

Prepare a butter and flour paste: Smash the remaining 2 tablespoons of flour with the butter together in a small bowl with a spatula until it forms a thick paste.

Thicken the gravy: Stir the butter-flour paste into the pot and cook for 3 minutes to remove raw flour taste and thicken the gravy, making sure the liquid does not boil. Stir in the vinegar.

Add the meat back to pot: Return the shredded pieces of meat to the pot and gently stir to coat in the gravy.

Serve the pot roast: Serve the pot roast over buttered egg noodles or with crusty bread. Top with a few grinds of black pepper and chopped thyme and rosemary.
Recipe Notes
Storage: Leftovers can be stored in an airtight container in the refrigerator for up to 4 days. Reheat over low heat on the stovetop until warmed through.
Kitchn supports our readers with carefully chosen product recommendations to improve life at home. You support us through our independently chosen links, many of which earn us a commission.