A Newbie's Guide to Cooking Tofu & Loving It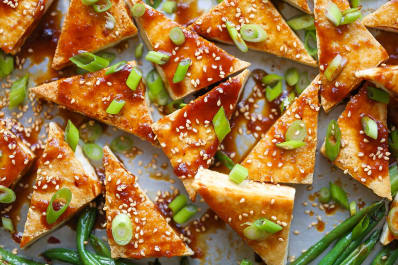 (Image credit: Chungah Rhee)
If you're working tofu into your meal plan for the first time, I first want you to know that a world of delicious possibilities awaits. It can also feel a little tricky to know the best kind of tofu to buy and how exactly to cook it. We're here to help!
From buying the best type of tofu for what you're cooking to all the ways to cook it, here's what you need to know about cooking up a delicious batch of tofu.
Step 1: Buy the best variety of tofu for what you're cooking.
There are several different varieties of tofu, including silken, medium, firm, and extra-firm, and texture is what sets them apart. More specifically, the difference between varieties is the amount of water that is pressed out; the more water that's pressed out, the firmer the texture.
The best way to determine what variety of tofu to buy is knowing the way it will be prepared or cooked. Blocks of tofu are usually packed in tubs of water or sometimes vacuum-sealed and found in the refrigerated section of your grocery store.
Silken tofu: Silken tofu works well in creamy and blended foods like smoothies, desserts, puddings, salad dressings, sauces, and dips.
Medium tofu: This tofu is denser than silken but still fairly delicate. It works well in gently simmered soups, like miso.
Firm tofu: This tofu absorbs flavors well and can be stir-fried and pan-fried, and is also great crumbled and used in tofu scrambles.
Extra-firm tofu: Consider extra-firm tofu the all-purpose tofu that holds its shape well and is excellent for slicing and cubing. It's an ideal choice for pan-frying, stir-frying, baking, grilling, and scrambling.
Learn more: What's the Difference Between All the Types of Tofu?
Step 2: Press and drain the tofu.
No matter what variety you're working with, tofu contains a fair amount of liquid, and it's helpful to remove as much as possible before cooking. It adds some extra time to dinner prep, but it makes such a difference in the finished texture of the tofu (think: more soft and chewy, rather than soggy) that it's worth it.
Leave the block whole or cut it into large cubes, then place the tofu in between a few layers of paper towels and weigh it down with something heavy, like a large can from the pantry, a cast iron skillet, or a cookbook. As a rule of thumb, press the tofu for about 20 minutes.
Step 3: Marinate tofu for maximum flavor.
On its own, tofu is neutral-tasting and very mildly flavored. This quality makes tofu a blank canvas, willing and able to take on any and all flavors it's paired with. And it has a sponge-like ability to soak up marinades.
Firm and extra-firm tofu have the best results with marinating, since they can be relied on to keep their shape. Press and drain the tofu, then soak in any marinade for at least 30 minutes before cooking.
Marinate your tofu: My Secret to Absolutely Delicious Tofu
Step 3: Cook tofu in the oven, on the stove, or on the grill.
Just as there are an infinite number of ways to flavor tofu, the same goes for cooking. The most common methods for cooking extra-firm and firm tofu are pan-frying, stir-frying, baking, grilling, and scrambling it.
Pan-frying is the easiest, least fussy way to cook up a batch of ultra-crispy cubes of tofu. After pressing and draining as much liquid from the block as possible, cut the tofu into cubes, sticks, or wedges, then toss it with cornstarch until all the pieces are well-coated. This extra layer is the ticket for maximum crispiness. Pan-fried tofu isn't as good when made too far in advance, so plan to serve it shortly after it comes off the stove.
Get a recipe: How To Make Crispy Tofu Without Deep-Frying
As with any stir-fry, you can expect stir-fried tofu to come together in just a couple of minutes with minimal time at the stove. The tofu comes out of the wok with super-crisp, golden edges and a soft, chewy center. For the best results, start with extra-firm or firm tofu, and press out as much water as possible before cooking.
Straight from the oven, baked tofu has an irresistibly crispy outside and a creamy, soft middle. And even though it loses its crispness once cooled, it becomes wonderfully firm and chewy. Whether you bake it plain or soak it in a marinade first, baked tofu can be used for everything from salads and grain bowls, to stir-fries, tacos, burritos, and noodle dishes.
Get a Recipe
Pro tip! Use cornstarch for extra crispiness.
If you're planning to eat the tofu right away, try tossing it with a little cornstarch before baking. This makes the outside extra-crispy when the tofu is hot from the oven.
Yes, you can even cook tofu kebab-style on the grill. The secret to success with grilled tofu is starting with extra-firm tofu, freezing it first for a more dense texture (with will also help it soak up even more marinade or BBQ sauce!), and cutting the block into generous one-inch cubes or larger. The skewers will cook in under 10 minutes, and it's best to turn them regularly.
Get a recipe: Bryant Terry's Grilled Vegetable and Tofu Kebabs
Scrambled tofu has a similar texture to scrambled eggs, is just as versatile, and is infinitely customizable. The basic version is flavored with olive oil for a touch of fat, nutritional yeast for a savory, umami-rich flavor, and a pinch of turmeric for a signature yellow color. Eat tofu scramble on its own, add cooked vegetables for a breakfast hash, stuff it in a pita, or add it to your avocado toast.