11 Super-Smart Ways to Organize All Those Cooking Utensils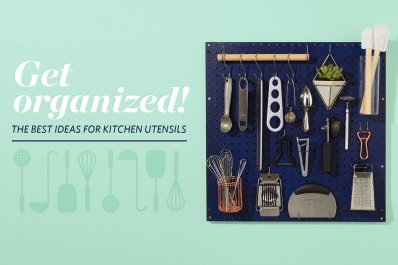 (Image credit: Image: Devon Jarvis / Design: Susanna Hopler)
Storing cooking utensils is challenging: You want them within easy reach, but you have a lot of them so finding a spot is an issue, and getting them into any kind of order is another. Luckily there are a bunch of brilliant people out there spending lots of time thinking about this — and then posting their solutions on the internet!
Here are the smartest ways to organize your cooking utensils that we could find online.
1. On a towel rack.
Use S-hooks to hang utensils from wall-mounted towel racks to turn them into an evolving display, like Niki from My Scandinavian Home did.
2. On a pegboard.
Commonly used for tools in a garage or workshop, a pegboard is just as handy for storing kitchen utensils. After all, Julia Child had one hung in her kitchen.
3. On a rake.
Hear us out! The idea seems a little out there, but when we saw this picture from Love in a Mason Jar, we were sold. The tines of an old rake are the perfect hooks for utensils.
4. In a pitcher.
Anyone can put a bunch of tools in a regular ol' crock, but we love this idea from Anita at Cedar Hill Farmhouse: She put her tools in a stainless steel pitcher. Another idea? A vintage Champagne bucket would work just as well.
5. In a DIY rack.
This DIY storage trick makes smart use of an usual source: plumbing supplies. Medina at Grillo Designs mounted plumbing pipe clips on a piece of wood, which she then hung on her wall to create a rustic and handy utensil hanging rack.
6. On the side of cabinets.
Even if you lack wall space, you still probably have room to hang your utensils, as this Chicago home proves. Just hang a bar or individual hooks on the side of your cabinets and there you go — instant storage!
7. In a pull-out drawer.
Instead of storing your containers on the countertop, put them in bins that slide into a pull-out cabinet. It'll save space and amaze dinner guests who happen to be hanging out in the kitchen while you cook.
8. Inside a cabinet door.
Attach hooks to the inside of your cabinet doors and store utensils in an inconspicuous spot. Just set the hooks up in two rows, as seen here on Tara Dennis' site, so that the door can close properly.
9. Under your upper cabinets.
New from Umbra, this guy mounts underneath your upper cabinets and has flexible grippers inside that grab and hold onto utensil handles.
10. Diagonally in a drawer.
Storing long utensils diagonally makes smarter, more efficient use of drawer space. So simple, yet so brilliant.
12. In a container made of Legos!
Feel like playing? Try building a cheerful and totally customizable container made out of Legos, like homeowners Anna and Richard Wright.
Got your own smart idea? Share it in the comments!
Kitchn supports our readers with carefully chosen product recommendations to improve life at home. You support us through our independently chosen links, many of which earn us a commission.