5 Expert Meal Planners Share Their Grocery Shopping Secrets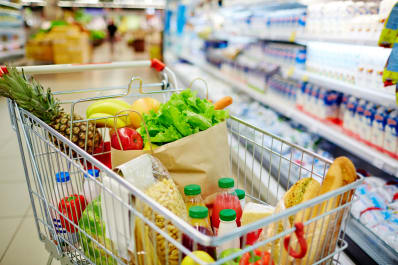 (Image credit: shironosov/Getty Images)
Successful meal planning is about more than simply selecting a week's worth of dinners and adding meal prep to your weekend routine — it also largely depends on grocery shopping. We talked to five meal planning pros to see how they tackle this task. Here are their best grocery shopping secrets.
1. Organize your shopping list into four sections.
"Grocery shopping can be stressful, but it doesn't have to be! Two things help me have a great experience. First, shop during off hours: first thing in the morning or in the late afternoon on a weekday. Avoid weekend shopping if you can.
"Also, it's so important to be organized and prepared before you shop. Plan your meals, figure out what ingredients you need, and arrive to the grocery store with an extremely organized list. I group my items into four quadrants: produce, pantry items, meat/dairy, and frozen. The list allows me to quickly grab what I came for in each area of the store and swiftly move through my trusted list as I procure the items I came for." - Ashley Pardo
2. Go once a week on the same day.
"I used to put off going to the grocery store because it was such an undertaking and I had no good system in place, but about a year ago I decided on a day of the week and now everyone in the family knows that I go grocery shopping every Monday. Since I always know when my next big weekly trip will be, I'm not tempted to go in for little in-between trips, and I know by what day and time I need to have my menu and shopping list ready to go. It's taken so much mental load off of me to not have to decide every week when I'm going to plan and shop." - Janssen Bradshaw, Everyday Reading
3. Organize your cart for faster shopping, unloading, and bagging.
"Think of your grocery cart as your most powerful tool at the grocery store. Start shopping off on the right foot by parking near the buggy return — you can grab a cart on the way in and you'll have an easier exit when you're done. Next, use a basket or even your shopping bags to corral delicate produce or bulky greens. This not only protects the greens, but also keeps them from obstructing your view of other items in the cart.
"Alternatively you can use an extra basket under the cart for meats that might leak or for eggs and milk that might otherwise get crushed by canned goods. It can feel a bit fussy at first, but I also try to unload my grocery cart so that like items are bagged together — so all the dairy goes together so it can be bagged closely and unloaded into the fridge quickly at home." - Meghan Splawn, Associate Food Editor
4. Make one list to rule them all.
"I use a Google doc of my own creation for my grocery list, and it has everything (and I mean, everything) on it! In addition to columns for each kind of food category (produce, deli, meat, etc.), I also meal plan directly on it, including reminders for meal prep or defrosting. This helps me make quick decisions if necessary. Let's say the store's out of Brussels sprouts, which were planned for later in the week. Knowing which day I need a vegetable and with what meal helps me figure out a suitable substitute since I have all the info right in front of me. I also have a column that I try to keep updated with things in the freezer or pantry that need to be used up to help spark meal ideas.
"Keeping everything cloud-based means that my husband has access to the list at all times in case he goes to the store. Plus, we can both update in real time. I love being able to add an item quickly with my phone to get it out of my head — with an active kid and busy work life, the less I have to remember, the better!" - Christine Gallery, Food Editor-at-Large
5. Know when to ask for help and opt for convenience.
"My usual approach to grocery shopping echoes the tips above, but on weeks when life gets overly busy I've come to accept that sometimes the best solution for shopping my meal plan is relying on a service like Fresh Direct, Amazon's Prime Pantry, Instacart, or one from a local store that allows me to order online. I resisted these services for a long time since they can come at a premium, but once in a while the convenience is invaluable, and can mean the difference between sticking to my meal plan rather than ordering a week of takeout." - Kelli Foster, Assistant Food Editor
Meal Plan Club with Kitchn
Meal Plan Club is our self-paced 4-week program full of educational posts, downloadable tools, and real-life sample meal plans where we'll walk you through each step of meal planning — from choosing recipes to meal prep and actually executing each meal — to make you a more confident meal planner in just one month. You can follow along here!