Why "The Great British Bake Off" Contestants Finally Left the Tent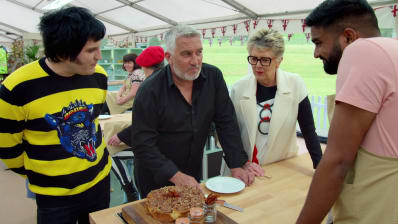 (Image credit: Courtesy of Netflix)
On The Great British Bake Off, the white tent where the contestants create their marvelous mouth-watering bakes is a place of comfort and joy, even when the pressure is on. Yes, The Great British Bake Off is technically a competition, but the white tent also represents the bond between the bakers and their love of baking.
This is why (and be warned, there are spoilers ahead) it might have come as a shock to some viewers, when, on the latest season of the show, the final three contestants, Rahul Mandal, Kim-Joy Hewlett, and Ruby Bhogal, actually left the tent to complete their final technical challenge. It was the first time in the show's eight-year history that the contestants have stepped outside of the tent to bake, but it turned out to be a worthwhile risk on the show's part.
So why leave the iconic tent in such a climactic moment of the show? In a recent interview with Vulture, the show's executive producer, Kiernan Smith, explained, "We are always looking for ways to refresh and reinvigorate challenges, and the technical challenge in the final felt like a good place to take things outdoors."
For this particular challenge, Rahul, Ruby, and Kim-Joy took their cooking chops just 50 short feet from the tent in order to make campfire pita breads. The trio had to cook the bread over an open fire which proved, well, challenging to put it mildly.
"We wanted an outdoor challenge that tested our bakers' most basic bread-making instincts with one of the oldest breads and a common purchase amongst supermarket shoppers," Smith told Vulture.
Stripped of the modern equipment they're used to in the tent, the bakers struggled to master this "primitive" form of cooking. It was a vulnerable moment for the bakers, and one that might have humbled them after having come so far in the competition. There were also a few moments of much-needed comic relief as all three bakers stressed out over how to stoke the flames of their campfires with hot pokers. Thankfully, they each triumphed over the outdoor fires in the end, although it would be Rahul that would eventually come home with the top prize.
Will we see anymore outdoor challenges in still-to-come seasons of the show? Smith remains hush-hush, though I would bet good money the contestants will be seeing much more of the world outside of the tent in the future. Just please don't stray too far.