The Most Popular Bakery Item at Trader Joe's Is a Wisconsin Tradition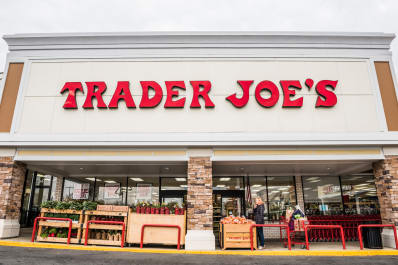 (Image credit: ablokhin/Getty Images)
You can totally call me a Grinch, but nothing makes me grumble to myself faster than the phrase "Christmas in July." I'm more than OK with keeping December in December, especially because Christmas decorations already seem to materialize on big-box shelves in mid-July. (No, Walgreens, I don't need 500 miniature twinkle lights to go with this spray bottle of sunscreen.) But I was able to push those feelings aside — for a few minutes, anyway — when I saw the snow-capped, hand-drawn letters on Trader Joe's specialty bakery display. "Back for Christmas in July!" it said, right below a modest stack of Almond Danish Kringle.
I immediately put one into my shopping basket, before my brain could even register that we're already two weeks into August. There's a reason that the Almond Kringle was voted the Best Bakery item in Trader Joe's annual Customer Choice Awards, and that reason is because it's freaking delicious.
What is a kringle?
Kringles are pastries that originated in Denmark (by way of Austrian bakers) and that were introduced to Racine, Wisconsi,n in the late 1800s by Danish immigrants. According to What's Cooking America, Racine was, at one time, home to more people of Danish descent than any other city in America — which is why Racine has more Kringle-specific bakeries than anywhere else. (The Danish kringle is also the state pastry of Wisconsin, in case that ever comes up on HQ Trivia.)
The pastry itself is made from more than 30 buttery, flaky layers, and it can be filled with a variety of flavors. The Almond Kringle isn't a Trader Joe's product; they're made by O&H Danish Bakery in (where else?) Racine, Wisconsin. The family-owned bakery has been making kringle for more than 65 years, and each one takes three full days to produce.
Coachella's cool I guess but like have you guys tried the new Pecan Kringle from Trader Joe's

— Julia Boyd (@julia_boyd) April 12, 2018
How are you supposed to eat it?
Open your mouth and shove a slice directly into it. These kringles can be eaten at room temperature, or you can warm them for 3 1/2 minutes in a 350°F oven. I've had them both cold and warm, and it's really just a matter of preference. (I prefer it unheated, mostly because I don't do well with delayed gratification.)
What's the final verdict?
The kringles are a seasonal item at TJ's, so I always try to pick one up when they're available — but one is all you need. They are sweet, especially the almond flavor. Like, the kind of sweet that makes you think you should probably only eat it when you're already in your dentist's parking lot. Each kringle retails for $7.99 at Trader Joe's, which seems steep until you realize that they're $20.99 (plus $9.99 for overnight shipping) if you order one directly from O&H Danish Bakery. Eight bucks seems like a bargain!