Celebrate Holi with Thandai, a Creamy, Refreshing Drink You'll Fall in Love With
We
independently
select these products—if you buy from one of our links, we may earn a commission. All prices were accurate at the time of publishing.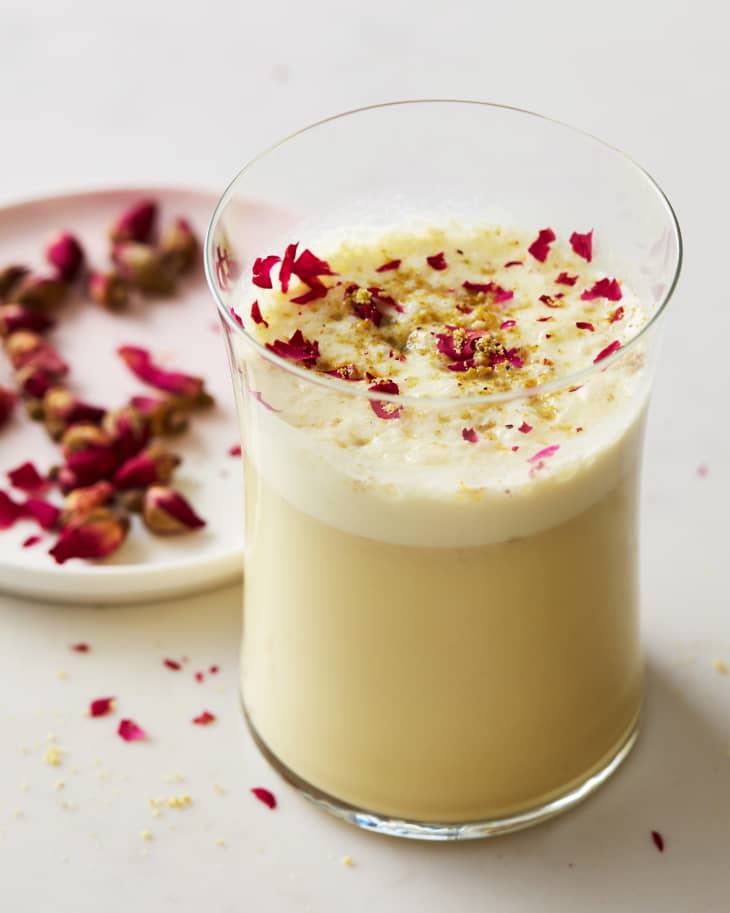 Thandai is a popular drink served during Holi (the festival of colors) and Mahashivratri. The refreshing beverage is made with a special blend of spices and nuts like almond, fennel, saffron, sugar, cardamom, and rose petals, which gets shaken with milk and served cold. The result is a luscious, creamy drink you're sure to fall in love with.
There are two ways to make thandai. The more traditional way involves grinding soaked almonds, cashews, poppy seeds, and spices into a paste, then mixing it with cold milk and straining before serving. The second method, which is also very common, involves making the masala in powdered form. Here, I'm being my very millennial self and going with the latter method, which is much easier and lasts longer at room temperature.
Generally, when making any type of masala, you throw all the spices into a grinder and process until they form a fine powder. But in this case, we're going to grind the nuts and spices separately before mixing them together. Nuts release oils the more you grind them, so keeping them separate and only grinding for a few seconds at a time ensures you end up with a golden coarse powder (and not nut butter!).
I like to use any leftover masala for sprinkling on top of oatmeal or adding to smoothies. It adds just a hint of cozy to my mornings.
Thandai is a popular refreshing drink served during Holi and Mahashivratri festivals. It's made with a special blend of spices and nuts, shaken with milk and then served cold.
Prep time 15 minutes
Cook time 2 minutes
Makesabout 2 cups
Serves4
Nutritional Info
Ingredients
For the thandai masala:
2

tablespoons

char magaz (melon seeds)

1

tablespoon

2

teaspoons

fennel seeds

2

teaspoons

ground cardamom

1/2

teaspoon

black peppercorns

1/2

teaspoon

ground turmeric

1/4

teaspoon

ground nutmeg

1/4

teaspoon

saffron threads

1/4

cup

raw almonds

1/4

cup

raw cashews

1/4

cup

raw pistachios

1

tablespoon

granulated sugar

1/2

teaspoon

kosher salt
For the thandai milk:
2

cups

whole milk or unsweetened plant milk, divided

1/4

cup

thandai masala, plus more for garnish

2

tablespoons

maple syrup or sweetener of choice

2

ice cubes

Dried rose petals, for garnish (optional)
Instructions
Make the thandai masala:
Place 2 tablespoons melon seeds, 1 tablespoon white poppy seeds, 2 teaspoons fennel seeds, 2 teaspoons ground cardamom, 1/2 teaspoon black peppercorns, 1/2 teaspoon ground turmeric, 1/4 teaspoon ground nutmeg, and 1/4 teaspoon saffron threads in a spice grinder and grind into a fine powder, about 20 seconds. Transfer to a medium bowl.

Grind the following one at a time in a spice grinder into a coarse powder, about 5 seconds each, and transfer to the bowl of spices: 1/4 cup almonds, 1/4 cup cashews, and 1/4 cup pistachios. Add 1 tablespoon granulated sugar and 1/2 teaspoon kosher salt to nuts and spices and stir to combine.
Make the thandai milk:
To make the drink, bring 1/2 cup of the milk to a simmer in a small saucepan over low heat, about 2 minutes. Remove from the heat, add 1/4 cup of the thandai masala, and let steep for 5 minutes.

Pour into a high-speed blender, then add the remaining 1 1/2 cups milk, 2 tablespoons maple syrup, and 2 ice cubes. Blend for 30 seconds and pour into a glass. Alternatively, shake everything together in a cocktail shaker or sealed mason jar. Pour into glasses, sprinkle with more thandai masala and garnish with dried rose petals if desired, and serve immediately.
Recipe Notes
Storage: Thandai masala can be stored in an airtight container at cool room temperature for up to 1 month.
Sweetener options: Instead of maple syrup, you can use honey, granulated sugar, or brown sugar. Using a dark sugar will change the color a bit.