How To Make Chimichurri Sauce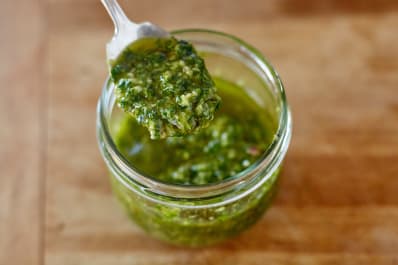 (Image credit: Lauren Volo)
How many times do you look at a sauce or spread and know from its appearance that it's packed, from top to bottom, with intense flavor? Not too often, right?Even the best, most expertly prepared hummus doesn't look as good as it tastes. But chimichurri — a rich, herby sauce made from what feels like a whole garden's worth of herbs, along with red wine vinegar, garlic, and shallots — has no time for illusions. It's so intensely green it's almost glowing, and it tastes just as bright and bold as it looks.
While its precise origins are murky, it's been most closely associated with the open-fire grilling culture of Argentina where it's a standard condiment for grilled steak. Beyond the fire and coal, chimichurri is ready to do the work of enlivening your everyday meals. Consider this a staple to always having on hand. Here's how to make this knockout sauce, plus a whole slew of ideas on how to use it.
(Image credit: Lauren Volo)
What Is Chimichurri?
Chimichurri is a piquant sauce of fresh herbs, vinegar, and olive oil from Argentina. Parsley makes up the bulk of the herbs, with some recipes excluding cilantro, basil, or mint in favor of just parsley. The herbs, lemon juice, vinegar, olive oil, and often aromatics like garlic and onion are worked with a mortar and pestle to make a thick, silky paste. Traditionally served with grilled skirt steak, it also makes a great companion to grilled chicken, a quick and flavorful sauce for tacos, or a marinade for meat or tofu. Add red pepper flakes and your Argentinian chimichurri starts to look more like the fiery versions you'd find in Uruguay.
(Image credit: Lauren Volo)
Everything You Need to Know About Making Chimichurri
For this everyday chimichurri, we utilize a food processor instead of a mortar and pestle to make the sauce even faster to throw together. Here's the step-by-step guide.
Temper the garlic and shallot in vinegar and lemon juice.
After chopping the garlic and shallot, toss them with the red wine vinegar and lemon juice in a small bowl and let them meld together for about 10 minutes. I usually do this step first while I clean the herbs and get out the food processor. The lemon juice and vinegar work to mellow some of the sharpness of the garlic and onions.
Process the garlic and shallot with the fresh herbs.
After sitting for a bit, the garlic and shallot, along with the herbs, go into the food processor. The goal isn't a perfectly smooth sauce, so don't run the food processor continuously. Stop and scrape down the sides of the bowl as needed.
Drizzle in the olive oil.
With the food processor running, drizzle in the oil. This will help finely chop the herbs and make the sauce a bit thicker.
Use or store.
You can use the chimichurri sauce straight from the food processor, but the sauce actually improves in flavor after it sits for an hour at room temperature or overnight in the fridge.
Using Chimichurri as a Marinade
For marinating meats, vegetables, or even tofu or beans, I suggest adding a few tablespoons of the chimichurri to 1/2 cup of olive oil along with a few tablespoons of red wine vinegar and a fat pinch of salt. This makes for a stronger marinade and leaves you with plenty of chimichurri to serve with the finished meat. Remember that you cannot serve leftover marinade — specifically when used to season meat — with the cooked proteins.
More chimichurri inspiration: 5 Ways to Use Chimichurri Sauce
(Image credit: Lauren Volo)
Using Chimichurri as a Sauce
Chimichurri sauce is often served straight up as a condiment, but it works wonders as a flavor booster. My kids love it folded into Greek yogurt or sour cream. We also enjoy it folded into mayonnaise for sandwiches or wraps. Try tossing warm roasted veggies with the sauce or use it as a dressing for sturdy greens. And that chicken breast you made for dinner? Yeah, you're going to want to add lots of chimichurri to that as well!
How To Make Chimichurri Sauce
Makes about 1 cup
What You Need
Ingredients
3

cloves

garlic, chopped

1

medium shallot, chopped

1

tablespoon

red wine vinegar

1

tablespoon

freshly squeezed lemon juice

1/2

cup

packed fresh parsley leaves

1/2

cup

packed fresh basil leaves

1/4

cup

packed fresh cilantro leaves

1/4

cup

extra-virgin olive oil

1/2

teaspoon

ground coriander

1/2

teaspoon

ground cumin

1/2

teaspoon

kosher salt
Equipment

Measuring cups and spoons

Chef's knife

Cutting board

Small mixing bowl

Food processor or blender
Instructions
Marinate the garlic and shallot. Combine the garlic, shallot, vinegar, and lemon juice in a small bowl and set aside for 10 minutes.

Process with the herbs. Transfer the garlic mixture (including liquid) to a food processor fitted with the blade attachment or blender. Add the parsley, basil, and cilantro and pulse to finely chop.

Add the oil. With the motor running, drizzle in the oil in a thin stream. This should take about 1 minute.

Season. Stop the machine and scrape down the sides. Add the coriander, cumin, and salt. Pulse once or twice to combine.

Use or serve. Use the sauce as a marinade, or serve over grilled or roasted meat.
Recipe Notes
Storage: Store in the refrigerator in an airtight container and use within 1 week or freeze for up to 1 month.