The Most Kid-Friendly Breakfasts from the Smartest Moms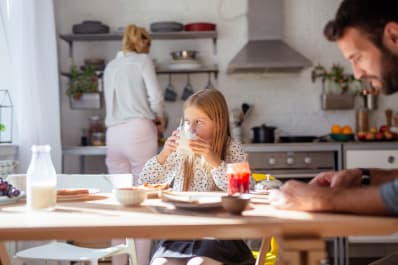 (Image credit: Lumina/Stocksy)
Dinner gets all of the attention. Understandably, since it demands our time at the end of the day, when we're exhausted and the pressure is on to feed our families in the short span between returning from work, school, and after-school activities and managing homework and the bedtime routine.
But you know what? I'm also tired in the morning, and the a.m. rush is even less forgiving. More than that, the old adage about breakfast being the most important meal of the day is true, at least for children. Studies show that eating a meal first thing in the morning has a positive impact on how kids younger than 18-years-old perform in school. Although it can be hard to rustle up a healthy, kid-friendly morning meal, serving the kids a good breakfast is definitely worth the effort.
It might even be more worth it than dinner.
The truth is that I've never had a hard time putting my kids to bed without dinner. If they don't eat at night, they just fall asleep — until breakfast time. But that morning meal? It fuels their whole day. So a nutritious breakfast that has major kid appeal, can come together fast (or maybe even be made ahead), and packs a mean nutritional punch is the real challenge in my house.
A veteran family food expert myself, I'm a mom first, and every mom knows that true expertise comes from the parent mind hive. That's why I've asked a few other smart, food-loving parents from different stages of parenthood to share their favorite kid-friendly breakfast recipes. Because, together, we can master the morning meal.
LaKita at Simply LaKita and I are on the same page. "A smart breakfast takes little time to prepare, uses simple ingredients, and is delicious," she says. That's why she loves feeding her kids almond overnight oats. "They can be prepared the night before in as little as five minutes simply by adding everything to a jar, putting the lid on, and having your kid give it a shake. The next morning, you take the oats out of the refrigerator and add your favorite toppings."
LaKita's recipes is great for sustained energy. "My version is dairy-free, rich in omega-3s, and a great source of sustained energy, perfect to satisfy even the hungriest kid." And I say, maybe the hungriest grown-up too.
Yvette of Muy Bueno knows that it only takes five minutes to scramble eggs in the morning, but she also knows that taking five minutes to scramble eggs on a busy weekday can feel like a complete impossibility. So, she figured out how to prep a bunch of these hearty, nutritious, and deliciously cheesy Southwest breakfast pizzas on Sunday to refrigerate or freeze for the whole week.
She points out that "Eggs are not only a convenient, inexpensive, and high-quality source of protein, but they're also packed with important nutrients that kids need. With these pizzas already prepped, all I have to do on busy weekday mornings is throw them into the oven and bake long enough to reheat and for the cheese to melt. Then, top each one with a mild homemade pico de gallo and slices of avocados." Delicious!
Erin at The Forest Feast loves these maple-pumpkin parfaits you layer with yogurt and pumpkin or squash purée because "you can make them the night before, and they sneak in some veggies while still feeling like a treat!"
I love that you can also use roasted sweet potato, since I tend to roast at least two every Sunday to have on hand for snacks, a quick dinner, school lunch — and now this. And, yes, even canned pumpkin or sweet potato will do in a pinch.
I wanted to hear from Bill and Judy at Woks of Life, a blog that they write with their grown daughters, as parents who are done feeding children on a daily basis, and am so glad that I did.
"Bacon and egg fried rice has been a kid-pleaser in our family for decades," they explain. "Tasty and easy to prepare with readily available ingredients, it's a great dish for any meal, but the classic combo of bacon and eggs make it especially perfect for breakfast!" I love that when you have distance on it all, it really does come back to the tastiest versions of those timeless classics — kale, chia, and green smoothies be damned.
My older son and I love savory breakfasts, but my younger son not so much. That's why I love this recipe for quick oats Pongal from Masterchef Mom. As written, the super-nutritious combination of oats and moong dal (split mung beans) result in a simple, savory porridge.
The sweet version is also delicious: "It is called Sakkarai Pongal. Using brown sugar tastes best, but you can also use date syrup to sweeten it," says Uma of Masterchef Mom. "To make the sweet pongal, start by making a syrup of the sugar and add it to the oats-lentil mixture, then cook until well-blended. Season the porridge with cardamom and finish with dried fruits and nuts like cashews, almonds, and raisins, toasted in ghee [or butter]."
Either way you go, turning oatmeal and nutrient-dense dal into a delicious morning porridge counts as an ingenious dish in my book.
Not all dieticians approach their work from a food-lover's point of view, but Katie Morford of Mom's Kitchen Handbook does, which is why I'm such a big fan.
Taste is never secondary to health in Katie's kitchen and, as a mother of three, neither is convenience. Her favorite kid-friendly breakfast is proof. As Katie points out, this healthy chocolate peanut butter smoothie is "a good recipe to pull out when you're in a rush or one of the kids claims to have no appetite for breakfast. It's hard to resist a creamy, chocolatey smoothie. Even better is that it's got good-for-you ingredients, including a half cup of spinach, that goes completely under the radar."
Yup, that's a smart mom who knows kids, understands deliciousness, and honors good health — in equal measure.
One of the things that I love most about polenta is that, despite being nothing more than cornmeal, it feels luxurious. But don't let that fool you: When using quick-cook polenta, you can make this 10-minute blueberry almond breakfast polenta just as easily on a rushed weekday morning as you can for a Sunday brunch.
While polenta isn't particularly nutritious on its own, this recipe from my cookbook, Make It Easy, boosts polenta with incredibly nutritious almond meal, protein-rich Greek-style yogurt, and fresh blueberries, which are kind of like the cherry on top.