How To Make Creamy Avocado Pasta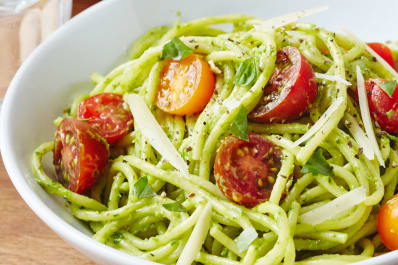 (Image credit: Lauren Volo)
I have fallen in love with a creamy, flavorful pasta sauce that could not be easier to make. It's as simple as whirling a couple of ripe avocados, fresh herbs, and a drizzle of oil in a blender while your favorite pasta cooks. The avocado makes for an incredibly creamy mild base, while a generous amount of garlic and basil work together to give the sauce a punch of flavor similar to pesto, but without any cheese or nuts.
This pasta sauce is a game-changer for weeknight dinners, potluck pasta salads, and your work-day lunch box. Here's how to make it.
(Image credit: Lauren Volo)
What Is Avocado Pasta, and Why Should You Make It?
Creamy avocado pasta is actually all about the creamy avocado sauce. Sure, there are some decisions to be made about which type of pasta to use, but by and large, the ingenious part of this dish is the sauce. By blitzing avocados with lemon juice, garlic, spinach, and some fresh basil, you can make a flavorful, creamy sauce that's not as heavy as cream-based sauces like Alfredo.
You can eat this sauce on both warm and cold pasta, making it a clever trick for dressing pasta salad without mayonnaise. Use the sauce and pasta as a base for a variety of salads adding your favorite vegetables or cooked proteins to bulk it up. My family loves this sauce on spaghetti with halved cherry tomatoes and crumbled bacon, but you could go full vegetable and use this sauce to dress zucchini or cucumber noodles for an incredibly easy and impressive vegan dish.
(Image credit: Lauren Volo)
Everything You Need to Know About Making Creamy Avocado Pasta
Here's the basic procedure: Boil pasta, blend the sauce, and toss the pasta with the sauce. Below are a few key pointers for taking this dish from good to great.
Choose a sauce-loving pasta.
Unlike a cream-based pasta sauce, this creamy avocado pasta sauce is incredibly thick. Be sure to choose a dry pasta with plenty of body that will stand up to this sauce's thickness. Spaghetti, soba noodles, and zucchini noodles work well, but avoid thin angel hair pasta. For pasta salads, fusilli and farfalle are ideal, while penne and rigatoni won't get much sauce inside their tubular shapes (making for a dry pasta salad).
Use ripe avocados.
You might think that the blender would tenderize an underripe avocado and still result in a brilliant sauce, but the avocados — and their ripeness — are central to this sauce. Try blending an underripe avocado and your sauce will have a grassy taste and texture. Heidi over at 101 Cookbooks has a few great tips for picking the best avocados.
Dress the pasta while it's warm (even if you're serving it cold).
Warm pasta plus a thick sauce makes for an easier, more even application. Dressing the pasta with the sauce while warm also means the pasta will absorb more flavor from the sauce.
How To Make Creamy Avocado Pasta
Serves 4
What You Need
Ingredients
12

ounces

dry spaghetti or pasta

2

ripe medium avocados (about 6 ounces each), halved and pitted

1/2

cup

lightly packed fresh basil leaves

1/2

cup

lightly packed baby spinach leaves

2

cloves

garlic

2

tablespoons

freshly squeezed lemon juice

1

teaspoon

kosher salt

1/4

cup

olive oil

Optional for serving: Parmesan cheese shavings, cherry tomatoes, or chopped fresh basil leaves
Equipment

Measuring cups and spoons

Chef's knife

Cutting board

Large pot

Colander

Blender

Tongs

Large bowl

Blender
Instructions
Cook the pasta. Bring a large pot of salted water to a boil. Add the pasta and cook until al dente, 8 to 10 minutes, or according to package directions. Meanwhile, make the sauce.

Make the sauce. Scoop the avocado flesh into a blender. Add the basil, spinach, garlic, lemon juice, and salt. Blend until smooth, about 1 minute. With the blender running, drizzle in the olive oil and blend until incorporated; set aside.

Drain the pasta. Drain the pasta in a colander, then transfer to a large bowl.

Toss the pasta with the sauce. Pour the sauce from the blender onto the pasta and toss to coat. Serve immediately.
Recipe Notes
Storage: Leftovers can be stored in an airtight container in the refrigerator for up to 3 days, but the color may darken.