11 Smart Ways to Use the Space Above Your Cabinets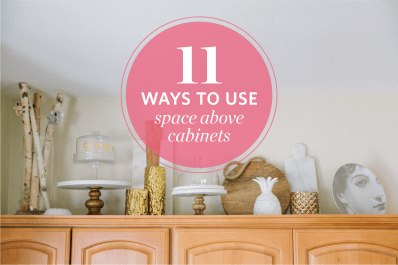 (Image credit: Yasmin Sarai)
I seriously don't understand why there is space above my kitchen cabinets. If someone knows of a historical reason, please illuminate me in the comments. Why can't my cabinets just go all the way to the ceiling? I do not know. What I do know is that it's a terrible waste of space and it tends to get pretty gross and dusty.
Do you share my pain? Here are a few ideas to make that space actually work for you — and me!
1. Display serving pieces.
This is a classic move, and for good reason: The space above your cabinets is just right for little-used items like cake stands, big serving boards, and a few decorative items.
2. Use canisters to conceal clutter.
Whether it's dry goods or just random clutter (shhh), closed canisters have an obvious kitchen-y feel. Using them is a great way to attractively conceal small odds and ends on top of the shelves.
3. Or bust out the baskets.
In addition to adding neutral texture to your kitchen, baskets, like the ones Lynne used in her Santa Barbara home, do a great job at hiding the stuff no one needs to see, like the juicer you just had to register for, or the stash of recipes ripped out of magazines you pull down for the holidays.
4. Show off a collection.
If you collect figurines, fans, Fiestaware, or anything in between, this spot is natural for showing off a collection — if only because you don't actually have to dust up there that often. (What? It's not like it's at eye level!)
5. Display cookbooks.
Let's be honest: For many of us, having cookbooks is as much about knowing you have them as it is about actually cracking them open for a recipe. So display them above the cabinets, like in this cute New York City apartment featured on One Kings Lane.
6. Store your wine.
We're guessing you don't have a wine cellar, right? Don't worry — neither do I! That's what makes this idea so brilliant. Just stash a mini wine rack on top of your cabinets (to keep the bottles from rolling away) and start stacking.
7. Grow something.
In Kerstin & Andy's Australian home, they used the top of the cabinets to help their plants get abundant sunlight. Bonus: It's hard to over-water something you can barely reach!
8. Add another shelf.
What's better than one shelf? Two shelves! If your above-cabinet space is tall enough, add an extra shelf above your cabinets by stacking a board atop three small wine racks. Even if you're not handy, you can get a hardware store to cut the lumber for you. Thanks for the idea, One Kings Lane!
9. Set up some art.
Art in the kitchen can be tough. (You don't want anything to get ruined from water, grease, and other splatters.) Art above your cabinets, however, will be relatively safe and make a bold statement. You could also hang a vintage sign, if you wanted to keep things simple.
10. Decorate for the holidays.
Whether it's Halloween, Thanksgiving, Christmas, or Valentine's Day, there's almost always a holiday coming up. This kitchen, featured on Lowe's, uses the space to make the room a little more festive. Steal the idea any time of year.
11. Just leave them empty
Sometimes, the best way to use a space is not to use it at all. If you don't absolutely need the storage, save the space until you do. Especially in a small kitchen, it will make the room feel airier than if it's jammed full of stuff.
Do you have a gap between your cabinets and the ceiling? How do you use the space?
Kitchn supports our readers with carefully chosen product recommendations to improve life at home. You support us through our independently chosen links, many of which earn us a commission.