The $4 Grocery Store Gift That My Italian Family Swears By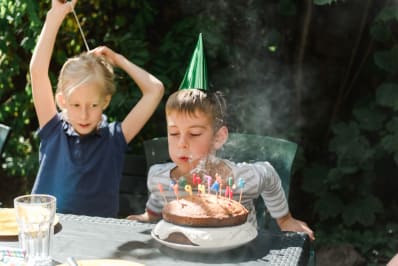 (Image credit: Léa Jones/Stocksy)
Have you ever described a close friend or family member as "really tough to buy for?" Well, here is the story of the time that I fit that bill (which paid off in the form of the best birthday gift ever: Italian pickled vegetables). Allow me to explain.
I grew up in an Italian family in New Jersey, which means that in the duration of my time on this earth, I've eaten more sodium-laden, cured, marinated, and pickled things than any human probably ever should. I blame this on our intense devotion to the ritual of antipasto, in addition to the sheer number of family parties that crop up throughout the year.
Our typical spread is as follows: a three-tiered tray of various meats (including soppressata, salami, and prosciutto), a ginormous cheese platter, marinated artichokes, black olives, green olives, pimento-stuffed olives, stuffed pickled peppers, stuffed spicy peppers, garlicky roasted peppers, marinated mushrooms, and Italian pickled vegetables aka giardiniera.
What Is Giardiniera?
It's a crunchy, vinegary combo of preserved cauliflower, celery, peppers, and carrots, and my sister and I are verifiably obsessed — so much so that we've gotten into fights over who has dibs on the last carrot. (Stay tuned for our eventual casting on The Real Housewives of New Jersey ... although I guess there are more interesting things to fight over!)
In Italy, giardiniera refers to "mixed pickles." In Chicago, it's a beloved condiment, finely chopped and preserved in oil. In my family, it's a birthday present.
The Most Perfect Birthday Gift of All Time Is a Condiment
Which leads me to the birthday part of this story: I was one of those extremely "tough to buy for" pre-teens, but my aunt and uncle knew just the gift that I'd remember forever: a jar of the good stuff, lovingly wrapped in tissue paper, and placed in a festive bag.
Have you ever seen those videos of kids unwrapping everyday foodstuffs and expressing genuine gratitude in its purest form? (See: Avocado Kid.) That's how I reacted when I opened up my very own jar of Mezzetta Italian Mix Giardiniera, which jet.com describes as a melange of carrots, celery, cauliflower, and colorful summer veggies. (Melange: so fancy!)
To anyone else, this gift might be a little anticlimactic, but to me, it felt momentous. Perhaps because it's something my family only eats on occasions worth celebrating. The only problem? I had to share my present with the rest of my big, Italian family. And I called dibs on the carrots.