7 Things You Didn't Know About Costco's Wine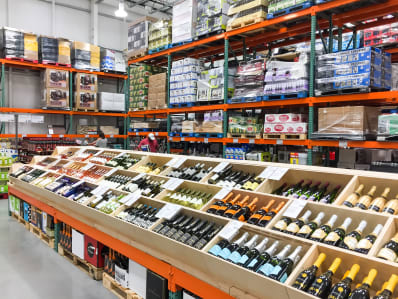 (Image credit: Trong Nguyen/Shutterstock)
One of my favorite aisles to browse at Costco is in, you guessed it, the wine section. I'm a value-oriented wine shopper (please don't call me cheap), so I tend to skip right past the fancy-looking wooden crates of wine priced at more than $20 and head to the shelves, which are typically loaded with more affordable wines. I get a thrill when I see my mother-in-law's favorite pinot grigio on sale before she's coming for a visit, or when the malbec we like pops up right before we have guests coming for dinner.
Curious about how they keep the prices so good — and where I might find the best value — I did some digging. While Costco was not able to comment on the specifics of how they source and price their wine, I was assured that their offerings are "carefully chosen by [their] team of expert buyers who work with respected winemakers and wineries around the globe to offer Costco members very good wine from the best wine regions in the world at exceptionally good prices."
Here are seven things I learned about Costco's wine. Did you know these things?
1. Prices are usually 10 to 20 percent off retail.
Much like their other goods, Costco wine is significantly less expensive than what you'd find at a speciality store. This is because Costco has massive buying power. The retail giant buys in such large quantities that the supplier is able to give a big discount and still make decent money. And then the savings get passed down to you.
Related: A Wine Expert's Best and Easiest Tips For Picking Out a (Good) Cheap Bottle at Target, Costco, and Trader Joe's
2. You don't necessarily have to be a member to buy it.
Depending on your state regulations, you might not have to be a Costco member to buy wine from the store.
Read more: The Secret Deal at Costco for Non-Members
3. The private-label wines are legit.
A Kirkland Signature red might not seem as fancy as some other brands, but in my experience, once it's decanted and set on a nice dinner table, it's very popular. Rumor is that their in-house wines are made in the same vineyards as the most popular name brands out there (and sometimes, if you flip the wine over, the spot will be listed), so definitely give these a try.
4. It's worth doing some digging.
If you're a real connoisseur — one who knows which years are the best vintages — go through the whole bin of a wine you love. Some shoppers have found that Costco stocks different years all together, so you may be able to find a gem.
5. The price tags have some secrets.
Most Costco items end in $.99, so if you see a wine that ends in $.49, $.79 or $.97, it's a flag that the item is either on sale, or possibly an even better deal than usual because they've negotiated a special price with the manufacturer.
If an item has an asterisk next to the price, that typically means it's a clearance or seasonal item that won't be restocked once it runs out. So if it's a wine you love, this is the time to stock up.
6. They don't only sell cheap stuff.
Vinophiles have found collector's-item wines that cost thousands of dollars in Costco's aisles. Hey, even millionaires can be bargain shoppers!
7. You can take the empty wooden crates.
Why would you want an empty wooden crate? Because they make great organizers for a pantry! Put them on a shelf or on casters to roll around along the bottom of your pantry. For the record, I'm not talking about the boxes used in the display for the really nice bottles (read: not the ones in the photo above). I'm talking about the ones that are stacked up in the aisle or by the checkouts. These are the boxes that wines are often shipped in and Costco doesn't have any use for them, but you may find that you do!
Got any other secrets or surprises to add?