11 Brilliant Ways to Organize All Your Canned Goods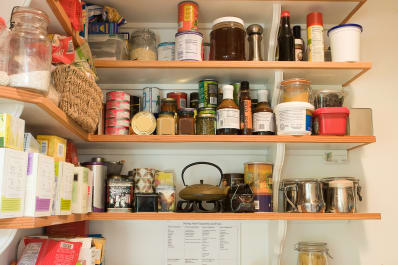 (Image credit: Raymond Forbes LLC/Stocksy)
My oldest daughter recently discovered canned chicken soup, and it is now her all-time favorite meal. Luckily, it's the easiest thing to make. I mean, sometimes I toss in extra frozen veggies for her health, but other than that it's open the can, add water, and turn on the stove.
As I've learned, canned goods can be a dinnertime lifesaver — the random ingredient that beefs up an everyday recipe, or the just-in-case soup that you can break out when you haven't been to the grocery store in too long. So it makes sense to stock up. But the only problem is that cans are bulky and tend not to stack super well.
If you've got a canned food overload situation, here are 11 brilliant ways to organize all those tin cans.
1. In a store-bought organizer
Sometimes, the answer you've been looking for has been right in front of you the whole time. Type "can organizer" into Amazon and you get thousands of results. The one pictured above is my favorite and holds up to 36 cans — without taking over my entire pantry.
2. In a drawer
While canned goods are usually stored in pantries, not every kitchen has that kind of space. If you have a drawer to spare, put the cans in there — just use a marker to label the top of each one, so you can tell what's what without having to pull out each can. Write what's inside on top, like the folks at MotorHome did.
3. In magazine holders
Toni from A Bowl Full of Lemons found that magazine holders were just the right size to hold 16- and 28-ounce cans. You can fit a lot more cans on a shelf this way — and you don't have to worry about them falling over.
4. In photo boxes
Remember photo boxes? If you have a few left over from the days when you would actually print photos, steal this idea from The Kim Six Fix and cut down the sides to repurpose them as easy-to-access can dispensers. A shoe box will work, too!
5. In soda boxes
One more iteration of the idea to repurpose boxes: Using those long, skinny refrigerator-ready boxes that soda comes in, like Amy of Then She Made. Cut out an access hole and another one to reach in from the top, then use contact paper to get it to match your pantry.
6. In DIY-ed wooden dispensers
A step up from repurposing a box: making a wooden can dispenser yourself. This tutorial from Shanty 2 Chic shows that it's not as hard as you might think — and it looks super tidy when you're done.
7. On angled wire shelves
I'm a big fan of those coated-wire closet systems, and this hack from The Family Handyman is smart: Take the usual shelves and install them upside-down and at an angle to hold canned goods. The angle moves the cans forward while the little lip keeps them from falling to the ground.
8. On a lazy Susan (or three)
If you have a pantry with deep corners, you'll love this solution from Decor Chick: Use a lazy Susan to help you rotate to things in the back.
9. On a skinny rolling shelf
If you've got DIY skills and a few extra inches between the refrigerator and the wall, consider building a roll-out shelf that's just wide enough to hold rows of cans inside it. The team at Classy Clutter can show you how to build one.
10. On the back wall of a pantry
If you have an empty wall at the end of your pantry, try mounting a shallow shelf that's perfectly sized for a single row of cans. This comes from House of Hepworths.
11. On a rolling cart
Cans are heavy to carry around. A cart on wheels? That's much easier. Wheel this out to wherever you unpack your groceries and then tuck it away into a pantry or closet.
How do you organize your canned goods?
Kitchn supports our readers with carefully chosen product recommendations to improve life at home. You support us through our independently chosen links, many of which earn us a commission.