I Tried More than 3 Dozen Groceries Hitting Shelves This August — These Are the 9 Worth Buying
We independently select these products—if you buy from one of our links, we may earn a commission. All prices were accurate at the time of publishing.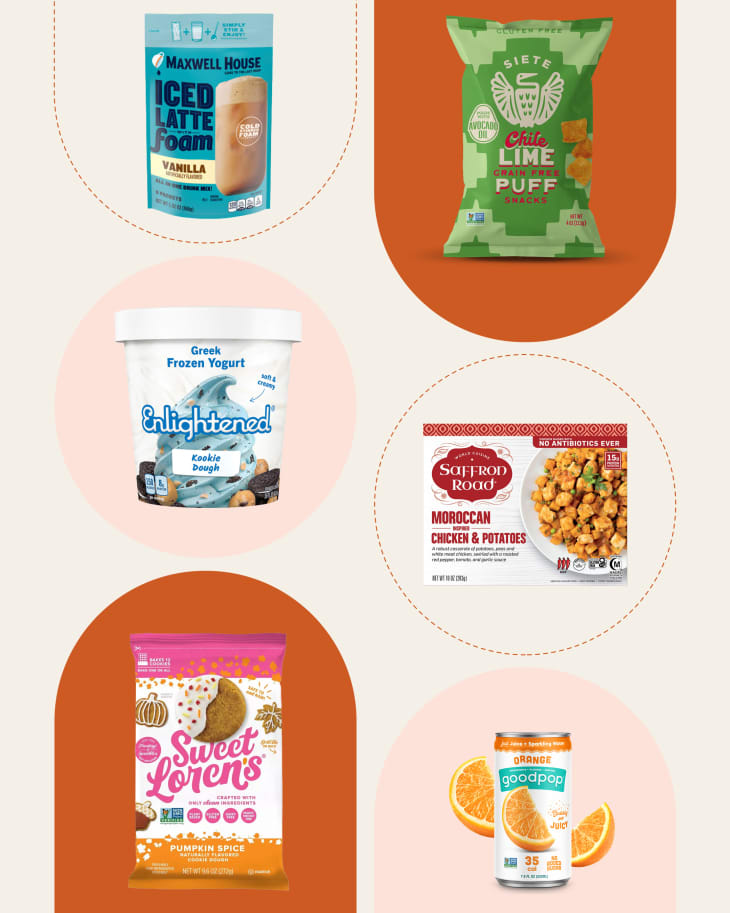 I wish summer could last forever. The incredible heirloom tomatoes, the long days and warm nights, and the excitement of fishing through my freezer for a Popsicle or carton of ice cream makes it the best season, in my opinion. 
But pumpkin spice-flavored items are slowly crawling out of hibernation — the first sign of the changing seasons. There's a new pumpkin spice cookie dough and coffee arriving to grocery stores this month (superfans may have already spotted them on shelves!). 
That being said, August groceries haven't completely pivoted to fall favorites: There are chile lime snacks, Reese's frozen desserts, and an iced coffee mix that will keep the summer vibes flowing for the rest of this month. Out of the dozens of new grocery items I tried this month, these nine are the ones worth adding to your next shopping list.
1. GoodPop Mini Cans
When I was growing up, there weren't a lot of options for carbonated beverages aside from soda. It's nice that there are plentiful options now for kids, including Goodpop's new variety pack of bubbly juices. There are three flavors per pack — orange, lemon-lime, and fruit punch — and the small size makes them ideal for tiny lunch boxes. The ingredients are just juice concentrate and sparkling water.

Find it in stores: GoodPop Mini Cans Variety, $14.99 for 18 (7.5-ounce) cans at Sprouts, Costco, and Thrive Market
2. Siete Chile Lime Grain Free Puff Snacks
Siete's new chile lime-flavored crisps are the perfect snack for anyone — not just because they're gluten-free, vegan, and grain-free (although that does make them approachable for many diets), but also because they're absolutely delicious. The texture of these lentil chips is airy and bubbly, similar to a shrimp chip or rice cracker, and the dusting of chile lime flavor is puckery without being too spicy. They'd work great for dipping in salsas or just snacking straight from the bag.

Find it in stores: Siete Chile Lime Grain Free Puff Snacks, $4.29 for 4 ounces at Whole Foods and Sprouts 
3. Reese's Frozen Peanut Butter Dessert Cups
If you're an ice cream bar person dreaming of a peanut butter variation, you're in luck. These Reese's peanut butter ice cream snacks, sans Popsicle sticks, are shaped to look just like a peanut butter cup. The ice cream veers on the edge of salty and isn't cloying at all, which works well with the thin shell of milk chocolate. It's the best way to close out summer. 

Buy: Reese's Frozen Peanut Butter Dessert Cups, $19.98 for 24 bars at Sam's Club
4. Maxwell House Iced Latte with Foam
Maxwell House has made magic in a tiny pouch with its new foamy lattes. Simply select the flavor of your choice (there's vanilla, caramel, and hazelnut), add water, and stir. Immediately, the namesake foam bubbles up — no equipment or steaming required. It's by far the easiest iced latte I've ever prepared and a good option for those who like their coffee sweet and creamy rather than strong; the coffee flavor in these packets is light and sugary rather than bold and bitter. 

Buy: Maxwell House Iced Latte with Foam, starting at $6.97 for 6 single-serve packets at Amazon and major retailers nationwide
5. Saffron Road Moroccan-Inspired Chicken & Potatoes
Saffron Road launched four new frozen entrées this month and my favorite of the four is the Moroccan-inspired chicken and potatoes meal, which is both certified gluten-free and halal. It only requires five minutes in the microwave and comes out saucy and hearty with a generous amount of cubed potatoes, chicken, and peas. Although the packaging is marked by three chili peppers, I found the recipe to be a medium-heat level — the equivalent heat of pickled jalapeños — and definitely approachable. The tomato and roasted red pepper sauce is the highlight: It's savory and garlic-forward with a tangy tomato kick. 

Find it in stores: Saffron Road Moroccan-Inspired Chicken & Potatoes, $5.99 for 10 ounces at Kroger
6. Snow Days Grain-Free Uncured Pepperoni Pizza Bites
The cassava-based casing used in the Snow Days pepperoni bites is an ideal texture — not flaky like other pizza bites on the market, but wonderfully crispy in a way that emulates deep-frying (without actually having to use a deep fryer). Five minutes in the air fryer is all you need for these snacks, and the interior of uncured pepperoni and cheese is the faultless combination of salty and mildly spicy. 

Find it in stores: Snow Days Grain-Free Uncured Pepperoni Pizza Bites, $7.99 for 6 ounces at Sprouts, Amazon Fresh, and Instacart
7. Sweet Loren's Pumpkin Spice Cookie Dough
You'd never be able to guess that Sweet Loren's cookie doughs are vegan, gluten-free, and peanut- and tree nut-free post-bake, thanks to their soft and chewy texture and balance of flavor. The new pumpkin spice flavor is no different, with a warm and gooey texture fresh from the oven and an aroma that's reminiscent of fall. A bonus is that the cookie dough is safe to consume raw.

Buy: Sweet Loren's Pumpkin Spice Cookie Dough, $6.99 for 9.6 ounces at Target, Whole Foods, Kroger, Albertsons, Safeway, and Meijer
8. Enlightened Kookie Dough Greek Frozen Yogurt
Don't be turned off by the blue hue of Englitened's Kookie Dough fro-yo reminiscent of everyone's favorite cookie-loving puppet — it's just spirulina. I'm a big supporter of Cookie Monster-themed treats that have both chocolate sandwich cookies and chocolate chip cookie dough balls swirled throughout. It makes for a frozen treat that is texturally exciting and chocolaty, creamy, and buttery all in one. Why choose between cookie dough and cookies and cream when you can have both?

Buy: Enlightened Kookie Dough Greek Frozen Yogurt, $6.99 for 16 ounces at Instacart, Sprouts Farmers Market, Wegmans, Harris-Teeter, ShopRite, Smart & Final, Albertsons, Giant Eagle, Jewel, Safeway, and Walmart
9. Copper Cow Pumpkin Spice Ground Coffee
A lot of flavored coffees are cloyingly sweet, but Copper Cow has Vietnamese robusta beans on its side, which have a bold and strong coffee flavor that is difficult to overpower. The new pumpkin coffee definitely provides an autumnal aroma, thanks to the inclusion of cinnamon, nutmeg, ginger, and pumpkin powder without tasting overly artificial and sugary. And if you're into the creamier, sweeter aspect of pumpkin drinks, the pumpkin spice pour-over lattes are also returning.

Find it in stores: Copper Cow Pumpkin Spice Ground Coffee, $17 for 12 ounces at Copper Cow (available starting August 21)
Which of these are you most excited about? Tell us in the comments below.
Want More?
Get the Kitchn Daily in your inbox.