Your Best Tricks for Making Dish Duty Easier and More Fun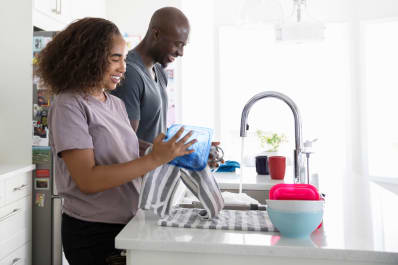 (Image credit: Hero Images/Getty Images)
Doing the dishes falls somewhere between death and taxes in the realm of life's certainties: Whether you're eating cereal out of a bowl or making a gourmet meal, someone's going to have to clean those dishes up! So the real question is, does it have to be such a slog?
We reached out to our readers on Facebook to get their best tricks for doing the dishes faster and making the process easier — here's what you suggested.
1. Clean as you go.
2. Harness the power of water.
3. Wash your dishes by type.
4. Don't let the sink be a black hole.
5. Get a good scrubber.
6. Work as a team.
7. Try to use fewer dishes.
8. Just get going.
9. Treat yourself while you do it.
10. Use it as down time.
Do you have any tips to add?