Your Best Summer Ever, No Matter the Weather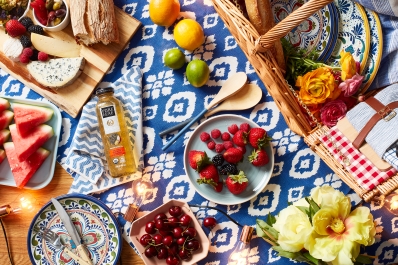 (Image credit: Ryan Dausch)
Sometimes you have grand plans for a summer day. And sometimes the weather has different plans. But that's OK! Think outside the box just a bit, and you'll find plenty of seasonal fun in any scenario. To prepare you for a summer of unpredictable weather (which is itself the only predictable situation), we used the premium flavors of the Pure Leaf Tea House Collection to elevate the fun, foods, and, of course, iced teas of summer.
59° & Below
Fall-like temperatures in the summer don't have to be such a bummer. When the mercury drops, throw an indoor garden party for your nearest and dearest friends. Replicate an al fresco dining experience in your own living room with elevated snacks and drinks, and all the trappings of the outdoor gathering.
Use summer ingredients to bake something conducive to chillier temperatures. (Hey, it isn't too hot out to turn your oven on!) We recommend this Summer Vegetable Galette with Pesto, which combines seasonal favorites like zucchini and basil into a warm, pastry-based dish.
Our drink of choice for cooler summer days is Pure Leaf Tea House Collection Fuji Apple & Ginger flavor iced tea. The warm and fruity flavors provide a refreshing pick-me-up.
(Image credit: Ryan Dausch)
60° – 76°
Mildly warm temperatures provide the best opportunity for spending time on the water. We suggest relaxing with a lake house getaway. Be sure to pack layers (it'll get cooler at night) and ingredients for some casually chic meals.
This sort of weather is also perfect for gardening, as you can spend time physically working outside without getting overheated. Summer is a magical time for fresh veggies — think peppers, eggplant, tomatoes. Take advantage of mid-range temperature days to put in some work and reap the benefits all season-long.
Even if you're not normally into outdoor exercise, it's hard to resist the siren call of a low-70s, sunny day. Stretch out under the sun with an outdoor yoga class. Breathing deeply feels a whole lot more beneficial when it's fresh air you're taking in.
Reach for a Pure Leaf Tea House Collection Wild Blackberry & Sage flavor iced tea for an authentic black-tea taste with a hint of sweet blackberry. It's perfectly balanced, just like the weather.
76° & Above
For those extra hot days, you can either retreat indoors to air conditioning or fully embrace it. If you're of the latter mindset, opt for a beach trip. Remember stylish sun protection in the form of a wide-brim, straw hat. You cannot be safe enough, especially with the delicate skin on your face.
Stay luxuriously cool using a DIY rosewater spray. It'll help you stay refreshed while soothing sun-kissed skin. Simply mix rosewater and aloe vera juice into a spray bottle and spritz liberally.
You don't need us to tell you that the best snacks on hot days come frozen. We love this recipe for Strawberry-Yogurt Popsicles, which are rich and creamy, almost like ice cream.
On those hottest days, we're sipping on Pure Leaf Tea House Collection Sicilian Lemon & Honeysuckle flavor iced tea, the ideal summer beverage thanks to refreshing lemon and sweet honeysuckle flavor.
This post was created by the Kitchn Creative Studio and is sponsored by Pure Leaf Tea House Collection.
Thank you for supporting the brands that make Kitchn possible.
Kitchn supports our readers with carefully chosen product recommendations to improve life at home. You support us through our independently chosen links, many of which earn us a commission.