The One Thing I Will Never Order on Amazon Ever Again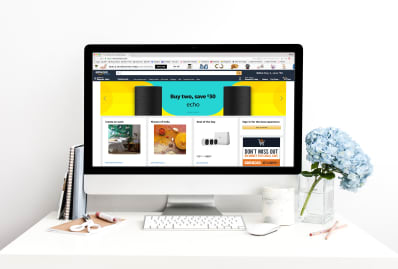 (Image credit: KateMaxStock)
Amazon is one of my favorite places to order, well, pretty much everything. And I'm willing to bet most of you would agree. They sell almost anything you can imagine — just find what you need and get it delivered to your doorstep!
I love ordering some of my dry pantry goods online from Amazon, many of my household and beauty products, several specialty food items, and, believe it or not, I've had great luck with jewelry, larger appliances, and other items that others might avoid buying there. And of course, I buy books on the site, as originally intended.
Plus, who doesn't love looking at Amazon's new and interesting finds and taking advantage of their Prime membership, Prime Pantry feature, or their Subscribe & Save program, which is free to use? Amazon even has coupons! I think you can tell that I'm Amazon-obsessed, so it might be a little surprising for you to learn that there's something I just refuse to order. This wasn't always the case, and it took some trial and lots of errors over the years to learn this lesson.
The number-one thing that I won't order anymore? Anything glass or breakable, my friends!
See, in the past, I've ordered countless glass, ceramic, and porcelain dishes, and they always, always arrive broken. This has happened to me at least 10 times over the last several years and, for some reason, I used to think things would improve! I thought I'd give Amazon one more chance and I always ended up regretting it.
For example, I have and buy a lot of reusable glass jars (Luminarc is one of my favorites, aside from Ball and Weck jars). I love using them for leftovers, smoothies, overnight oats, and drinking glasses, and they make excellent storage containers for the pantry. But I've resorted to buying them locally or ordering them elsewhere online, since every time I order them from Amazon they arrive cracked, chipped, or entirely broken.
To be fair, I know of other people who've never had this issue, but I just do not seem to be one of those fortunate souls. Anyone with me here?
Despite my bad fortune with ordering glass from Amazon, my love for the online shopping giant hasn't changed one bit! I just know that I'm better off ordering glass items elsewhere or shopping for them locally, even if I have to pay a few bucks more.
What about you? Have you had good luck or bad luck ordering glass products and items at Amazon before? Any tips to share?
Kitchn supports our readers with carefully chosen product recommendations to improve life at home. You support us through our independently chosen links, many of which earn us a commission.