10 Friday-Night Wines to Reward Yourself for Making It Through Your Worst Week Ever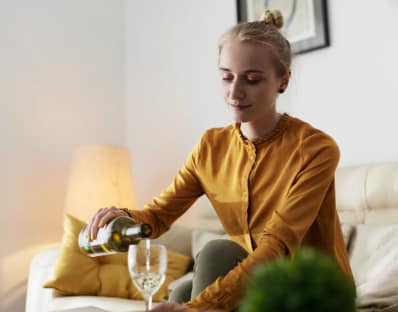 (Image credit: Milles Studio/Stocksy)
People who want to go out to a long dinner, see a weird modern play, or attend a loud party at the end of the work week are either Cylons or 22 years old. For the rest of us, Fridays (or whatever day signals the end of your work week) are for sitting on the couch and drinking wine. Especially if it's been A Week.
Here are a few ideas for what to slosh into your glass — based on what happened or how you're feeling.
If you spent too much time in meetings ...
Maybe you spent the entire week in way-too-long meetings and your body and mind are parched from all the hot air your colleagues have been expelling. Try Vinho Verde, a lightly spritzy white from Portugal. It's so thirst-quenching and low in alcohol it's basically a bottled wine spritzer.
Buy: Vinho Verde, $14 at K & L Wines
If your boss had some choice words for you ...
If you got a nasty email from your boss and you're still reeling, try a lush Pinot Noir that's like the hug you need. Pinot Noir from California tends to be a little richer than its French or Oregonian counterparts, and this one from Angeline will make you feel like you're wrapped in a big, cozy sweater. Email? What email?
Buy: Angeline Pinot Noir, $10 at Marketview Liquor
If you're feeling beaten down from too many menial tasks ...
I have a no-fail formula for you: A great bottle of sparkling wine + popcorn with truffle salt + your significant other/best friend/cat. Want all the Champagne "brioche" notes and complexity without the price tag? Look no further than Spain, where there's a sparkling wine quality revolution going on, with bubbly specialists Raventos leading the way. Their vintage Blanc de Blanc will make you feel like a million bucks again, even though you only spent a fraction of that.
Buy: Raventos Blanc de Blanc, $22 at Wine.com
If you're still feeling overwhelmed ...
Order your most favorite takeout meal and go the "adult soda pop" route with a fizzy red, which is a highly underrated category of wine. It's more refreshing than red wine, but stands up to heartier food than still or sparkling white wine. This sparkling Gamay from an obscure corner of Alsace would be perfect.
Buy: NV Domaine Lelièvre Leucquois, $20 at Domaine LA
If you're feeling betrayed by a coworker ...
Did one of your coworkers throw you under the bus? Drown your sorrows with some really chewy, gooey brownies. Especially if you're in the pro-nuts camp, Tawny Port is a great accompaniment because of its nutty, caramel-like flavors — and this one from Quinta de la Rosa is affordable and not overwhelmingly sweet. If you're of the all-chocolate-all-the-time persuasion, try the Ruby version, which is a more red wine-like Port from the same producer and a little better match for chocolate — especially if you threw some dark chocolate chunks into the batter.
Buy
If you were running around all week ...
Find the nearest rosé and throw it into a glass with a few ice cubes. Even Martha Stewart says it's OK! Similarly, I personally also love an inexpensive New Zealand Sauvignon Blanc with a little bit of ice when I'm extra-crispy exhausted.
Buy: Starborough Sauvignon Blanc, $8.50 at Total Wine
If you have people coming over ...
If Past You thought it would be a great idea to have people over but Present You is wondering what the hell you were thinking, pour something that's unpretentious but still sophisticated like this crisp Verdicchio from Italy. This is the kind of wine that makes me feel like one of those obnoxious, effortlessly stylish people ("Oh, this old thing?"). It's refreshing, balanced, and will go with all kinds of snacky appetizers and lighter dishes, but it doesn't make it seem like you tried too hard.
Buy: La Staffa Verdicchio, $19 at Chain Bridge Cellars
If you're thinking about giving your notice before Monday ...
And finally, if you're not even sure if you're willing to go back to your office on Monday, you'll need something to sip slowly and ponder your future. Try the mysterious, long-aged Rivesaltes, a fortified dessert wine from the South of France. This one is made from Grenache Blanc, a white clone of Grenache, and has that sweet/bitter tension that keeps it from feeling too cloying. May it inspire bold new plans that hopefully don't include some kind of scary Nine to Five scenario.
Buy: Terrassous Rivesaltes, $23 at Wine Library