The One Thing You Should Always Do Before Shopping at Williams Sonoma or Sur la Table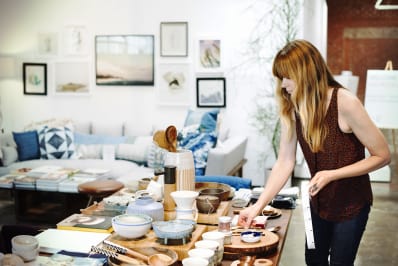 (Image credit: MintImages/Shutterstock)
I love going to high-end cooking stores like Sur la Table and Williams Sonoma. Wandering those aisles, thinking about the kind of cook I could be if I just had the right equipment, is enchanting. And sometimes I actually do need to buy something. My only problem there is that, while they carry the best of the best, the prices tend to match. But recently I've been taking a new approach in order to save money on those high-end cookware and appliance brands that I'd normally buy at Sur la Table or Williams Sonoma.
The key is this: Before you shop at one of those fancier stores, head to a discount store like TJ Maxx, Marshalls, or HomeGoods. While they aren't guaranteed to have what you want the way Williams Sonoma or Sur la Table would, you just might find exactly what you're looking for — and if you do, the price will be way lower.
A recent trip to my favorite discount stores supports this theory. Perusing the aisles, I found products from big-name companies like Lodge, Joseph Joseph, Calphalon, Wüsthof, Cuisinart, KitchenAid, SimpleHuman, OXO, Bodum, Casabella, T-Fal, Chantal, and more.
And when I compared the in-store prices to the ones online at the big kitchenware stores, the savings were significant. A Lodge Grill Skillet was $15 at TJ Maxx, but $36 at Sur la Table. A Joseph Joseph utensil set was $40 at TJ Maxx, but $100 at Williams Sonoma. Wüsthof kitchen shears were $8 at Marshalls and $20 (down from 30!) at Williams Sonoma. Even the OXO Swivel Peeler was $6 at HomeGoods and $9 at Sur la Table. While I saw a few items at the discount stores that were clearly older versions or poor-selling colors of ones at the specialty stores, there were many options in both stores.
The only problem, really, is that the inventory isn't guaranteed at the discount stores. So you may make a trip out just in case, and not find what you need. But if that means saving $50 or $100 on a bigger-ticket item like a small appliance or cookware set, I think it's worth the effort!
What sorts of scores have you landed at TJ Maxx or HomeGoods? Discuss in the comments below!