Why You Should Take a Snow Day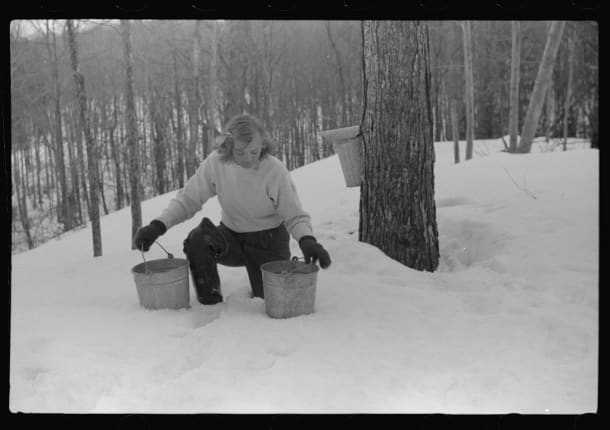 (Image credit: Library of Congress Prints and Photographs Division)
If you want to be young again, take a snow day. Like hiding a tooth under your pillow in an optimistic barter with a fairy, snow days are the rituals that make childhood magical. But unlike baby teeth for midnight swapsies, no matter how old you get, snow keeps coming. And it comes with little warning, which is exactly what makes it so thrilling.
Most other rituals are, by their very definition, expected: chocolate on February 14, challah every Friday after sunset, or even the first cup of coffee of the day. We anticipate, we plan, we cook, we invite, and we prepare. But snow days literally fall right out of the sky.
Fuel Your Creative. Nurture Your Cozy.
And yet, the very things that make us distant from nature are the very things that allow us to romanticize the idea of a winter's day. We'll never be lost with our GPS. We won't be alone with our phone. And in a world of walk-in pantries, deep freezers, and everything from plum tomatoes to skipjack tuna preserved and canned on a global scale, dearth is the exception rather than the rule for most Americans. With the privileges of (seemingly) unlimited electricity and snug wool sweaters delivered at the click of a keyboard, a snow day is less a threat to our survival and more a nostalgic jolt to the heart that fuels both our creative and our cozy.
Outside is the chaos of nature inspiring us to become gods — to make angels, people, and entire worlds out of snow. But inside we take refuge in the security of a well-stoked fire or at least the warm breeze of central heating. And even the simplest kitchen becomes the glow of the hearth that calls us to bake, braise, and stew. In a word, to feed body and soul while spreading warmth throughout our home. These wintery frictions are what inspire me to eat the cold and drink the warmth whenever a snow day suddenly stops us quite literally in our tracks.
Your Snow-Day Mini Guide
How to Eat Snow
It doesn't really get much more seasonal and local than snow. You can forage it in the wild (with all due caution for health and safety, of course), you can snare it (put a large bowl outside and with no effort at all you have captured a fresh, free meal), or you can just open your mouth to the heavens and let the plenty fall right in. And with the addition of just a few basics, you have my favorite annual ritual: snow ice cream.
It may sound saccharine, but it's not hyperbole when I say that if I could keep only one memory from my childhood, it would be my grandmother mixing eggs, sugar, and milk while I collected the fresh catch off the top layer of her back porch. Then, when I brought the snow to her, she'd pour the raw custard over my iceberg-in-miniature and we'd scarf the lot. It had to be devoured immediately, of course, or else you'd end up drinking nothing more inspiring than sweet yellow slush.
Like most childhood adventures, it came with risks, like salmonella from raw eggs and who knows what from the snow. It was with hesitancy, then, that I included it in my cookbook, Eat Feed Autumn Winter. But eating this offering from clouds has always been the very definition of winter for me.
---
---
How to Drink Warmth
Happiness might be a warm blanket, but bliss is a mug of hot chocolate. You can coarsely chop the finest single-plantation bar and swirl it into simmering full-fat milk, or you can put the kettle on and dump a packet of Swiss Miss into a paper cup. It doesn't matter. Marshmallows? Cream? A dusting of cinnamon or an infusion of chili? However you conjure the potion that makes a snow day magic, it will nurture and nourish.
When the drink first appeared in Europe, "the essence of the hot chocolate ritual was fluid, lazy, languid motion," writes Wolfgang Schivelbusch in Tastes of Paradise. Rococo paintings even celebrated a luxurious (and sometimes sexual) cup of hot chocolate in bed. Nothing like the soberingly intense jolt of a coffee that's meant to send you to work with an alert mind, a warming demi-tasse of chocolate was a luxurious full-body experience. And unlike thin tea, in which the leaf merely lent itself to flavoring the water before it was discarded, the "meat" of drinking chocolate remained its very spirit.
Then, in the 1820s, the Dutch chemist Coenraad Johannes Van Houten developed cocoa powder. Which, explains Sophie D. and Michael D. Coe in The True History of Chocolate, led to "the large-scale manufacture of cheap chocolate for the masses." That helped rich and gentle cocoa slowly transform from an aristocratic luxury to children's fuel. And now here we are with an almost Pavlovian craving for a cup of it every time we hear the silence of a single flake landing on our nose and reminding us of the thrill of being young and cold.
Get Your Hot Chocolate (Or Hot Cocoa) Fix
Snow Days for Time-Management and Self-Improvement
If you prefer to look at winter through the practical eyes of an adult, consider how a snow day is the best way to live your new year's resolutions — that is if you made good ones. Exercise, stay off social media, get outdoors, cook at home, spend more time with people you like, be happier. (If your resolutions involved a Fitbit or your 401K, I'm afraid you'll need other help.)
But remember — like all rituals, a snow day is ephemeral. We take down the tree and put the gifts to their practical uses. We blow out the birthday candles and devour the cake. Even the most elaborate wedding must turn into the everyday work of building a marriage. And eventually the snow will melt into urban swamps of gray slush. Since there's little you can do to save it, when it does come by surprise, do everything you can to make the most of it. Snow ice cream and hot chocolate are a good place to start.
Read more: 10 Reasons a Snow Day Is the Best Thing That Can Happen to Your Kitchen