The Publix Cake Is the Ultimate Southern Wedding Cake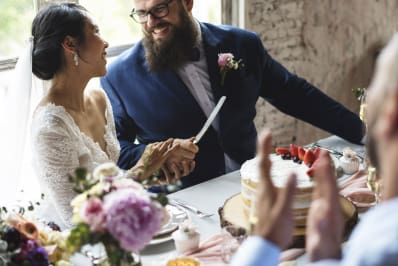 (Image credit: Rawpixel.com/Shutterstock)
When you're planning and paying for a wedding, eventually you start to see dollar signs. According The Knot's 2016 Real Wedding Survey the average wedding cost is $35,329, which leaves brides looking to save where they can. For couples set on having a cake, one way to save money is to buck tradition and skip the specialty bakery.
Couples can make their own cake, enlist a talented friend, or those lucky enough to live near a Publix grocery store can order a cake the next time they pop in to pick up chicken, yogurt, and other weekday essentials.
The Grocery Store Cake That's Actually Awesome
For people not familiar with the supermarket chain, you might be scratching your head. But people absolutely love a Publix cake. Not only is the Southern grocery store chain known for its bakeries, but it's pretty much a go-to with a cult-like following when it comes to wedding cakes for soon-to-be married couples.
"People have grown up with certain signature items from Publix. One of those items is our cake. So when it's time for people to get married, they think of our bakeries," says Maria Brous, a spokesperson for Publix. "Couples can come in and sit down with a baker to talk about how they can create a custom cake based on their individual tastes — right down to flavors and colors. Publix offers people the cake of their dreams for a fraction of the cost."
With five cake flavors, four types of icing, eight fillings, and 24 standard icing colors, couples have plenty of options. Plus, different flavors and icing color matching are available on request. The most incredible part? The average cost of a cake for 100 guests is $400, a bargain compared to typical cake costs in other bakeries around the country.
"Ordering a cake from Publix is so common around here," says Mandy Law Hucks, a Florida bride who had a Publix cake at her wedding and has been to many other weddings with Publix cakes. "It's so much less expensive than a traditional bakery. It really helps you budget for the wedding. The truth is that they do a beautiful job and then you have more money for other parts of your wedding."
Overall, brides seem to really gravitate to the fact that Publix just flat-out offers better prices. "We live on a budget. We had looked at other bakeries and their cakes were good but so were Publix's cakes. And then it came down to price — Publix was just significantly cheaper," says Pamela Bowry who had a Publix cake at her wedding four years ago. "It was so cheap compared to everyone else's cake prices and it tasted just as good."
Plus, most of the pros behind the counter are specifically trained to help take your vision and turn it into a reality. "Every Publix is different, so be sure you're using one with a bakery that is used to customer requests. I showed them a picture of what I wanted and they were so easy to work with, offering suggestions and feedback as we spoke," says Elizabeth Devolder who used Publix for her own wedding. "They helped us figure out the frosting too. My husband prefers buttercream, but we couldn't get the look I wanted with anything but fondant and they let us know that. I ended up taking different parts of different cakes and it turned into exactly what I wanted. They got the details and color match exactly right."
With the price of weddings skyrocketing, it's nice to know that there are still places a bride can get a great deal while not having to sacrifice on quality. We can only hope other grocery store chains across the country are taking note.
Did you have a Publix cake? What did you love about it? What would you have changed?