Why No Russian Easter Is Complete Without Kulich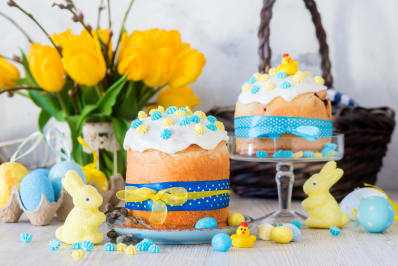 (Image credit: Irina Meliukh)
While pastel-colored eggs and chocolate bunnies set the stage for Easter, a step into your local bakery or a scroll through Instagram or Pinterest will most likely bring you face-to-face with another edible tradition: Easter bread.
The sweet treat figures into many cultures' celebration — and one Google search will have your mouth watering over its many shapes and forms. You will find glistening British hot cross buns, dove-shaped Italian colomba, and braided Greek tsoureki, to name a few, and that the Eastern Europeans offer their own delicious dizzying array too.
As you scroll through these breaded twists and birds, there's one eye-catching version that will stand, quite literally, above the rest: spectacular, towering Russian kulich.
What Is Kulich?
A cross between challah and brioche, this yeast-risen bread is enriched with eggs and butter; studded with dried fruit, candied peel, and nuts; and is spiced with either cardamom, nutmeg, saffron, or even rum depending on the recipe. A glaze of white icing typically crowns its golden dome-top and the letters "XB," which stand for "Christ is risen" in Russian, are piped on to finish.
Paired with a similarly sweetened and flavored cheese called paskha, the kulich presides at the center of a long-awaited holiday feast unparalleled in its decadence and richness.
Although my Russian mother didn't bake kulich every Easter — substituting a store-bought panetonne, a similarly enriched and elevated Italian sweet bread, instead — that year's festivities felt all the more special when she did. She began the long, tedious process of mixing and proofing the bread days in advance. Once ready, the fragrant dough would be tucked into an old Folger's coffee can (saved and set aside for the occasion, its tall, cylindrical shape made it the perfect mold) before being gingerly lowered into the oven.
As it slowly rose, a perfume of yeast, butter, and sugar would slowly fill the air and ours mouths began to water. Golden-sheened and radiating warmth, the transformed kulich would eventually emerge to our collective wow and then continue to tempt us — if not with its presence, certainly with its lingering scent — from atop its cooling perch for the remainder of the weekend.
On Easter Sunday, my mother and I would set the table. Our kulich, lightly dusted with powdered sugar, proudly stood as the centerpiece. Once prayers were said and a winner in the annual egg-clinking competition was declared, my mom would set to work: the crown of the kulich was removed, the bread sliced crosswise, and from those layers, wedges were cut and doled out. Bite after bite, the rich, fluffy crumb would melt in your mouth, giving way to bursts of golden raisins and warming cardamom and nutmeg.
In the end, the only thing that pulled us from the table was the need to get ready for church.
Why We Eat Kulich for Easter
Our beloved kulich (derived from the Greek word "kollix" for loaf of bread) traces its origins back to the Byzantines and early Orthodox church. Bread has historically been a symbol of fertility and life and its meaning was not lost when it was ritualized for Easter — a religious event that celebrated not only the resurrection of Christ, but also the arrival of spring, a time of rebirth and productivity. As a result, the kulich came to represent Christ's atonement for our sins, and the new life that came from his sacrifice.
Over time, with the inclusion of eggs, butter, and milk, the Easter bread also became a celebratory nod to Easter's other meaning: the end of forty days of no dairy or meat products for Lent.
Today, tradition dictates that the dome-shaped bread is prepared on the day before Good Friday and must be blessed by the priest at the Easter vigil before it can be consumed. On Sunday, the kulich is ceremoniously served and joyously eaten as the highlight of an extravagant Easter meal that decisively breaks the Lenten fast. In some homes, it continues to be consumed every day for breakfast and dessert until Pentecost the following Sunday.
Only the most devout of Orthodox believers take part in the fast these days, and the majority of people relegate the task of preparing the kulich to bakeries. But no matter the circumstances that surround it, that first bite of kulich — signifying life, the warmth of spring, and of course, indulgence — will always be a cherished part of every Russian Easter.
More Easter Bread Recipes from Kitchn