Why I Need to Keep a Sharpie by the Freezer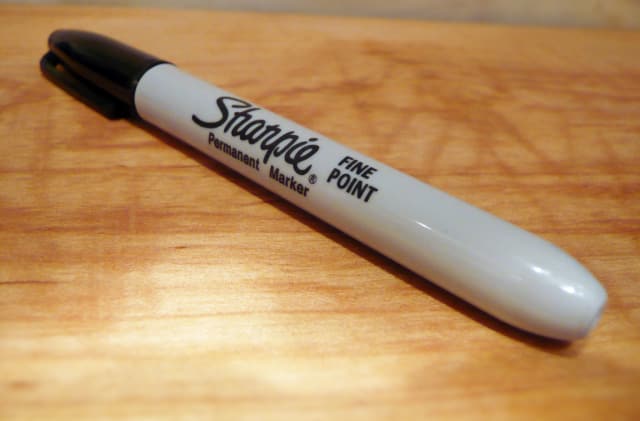 Why do I need to keep a permanent marker beside the freezer? The same reason everyone does. My memory is nowhere near as awesome as I think it is. At the beginning of each season, when our menu starts to change, I am reminded that I really, really need to organize the freezer. Cold pasta salads and fish tacos are being replaced by slow cooker chicken and soup. The summer heat is cooling and I need to figure out what's in my freezer.
What is all this stuff? See that tube of ground meat on the top shelf? I have no idea what it is. It has a date on it, but no other identification. (No worries. I'll make some sort of chili with it. No one ever really knows exactly what goes into chili, right?) The single pie crust, left from a package of two, is the perfect vehicle for some late summer peaches. All the grains can sit together on one shelf. And the bag of grits that's leaking is more than ready to be cooked. The five amberjack filets are ready to be made into fish tacos. And all that frozen, cooked brown rice? Rice Dish, here we come! This week's meals will be based on what's in the freezer.
I consolidated. Several bags of frozen waffles went into one large bag. All the nearly empty bags of frozen fruit went to the same shelf, ready to be made into mystery smoothies. Those two bags of broccoli florets, different brands, were dumped into one bag and seem to be getting along just fine. Speaking of frozen broccoli, do I buy a bag every time I go to the store? Is it always on sale? Because there must be some reason for the four (and a half and a half) bags I found in the freezer.
I found treats! I have big plans for the two bags of pure cocoa powder I bought from the students at an agricultural school in Haiti. I had totally forgotten about the bulk bag of chili flakes, so I refilled my empty jar. The frozen tamales and burritos are going to make a great Mexican dinner.
And I labeled. That Sharpie proved very useful, though I had to dig deep to remember when and where I had obtained various items. Thank goodness that mystery meat had a date. I may not know what it is, but I know it's safe! I put the marker in a drawer right next to the freezer, so I'll use it every time I add something, right? Right.
How often do you clean out your freezer? I would love some tips about how to keep a small freezer (small for a family of five, at least) organized. How do you do it?
(Images: Anne Postic)