Why Cheap Masking Tape Was Almost the Death of Me Today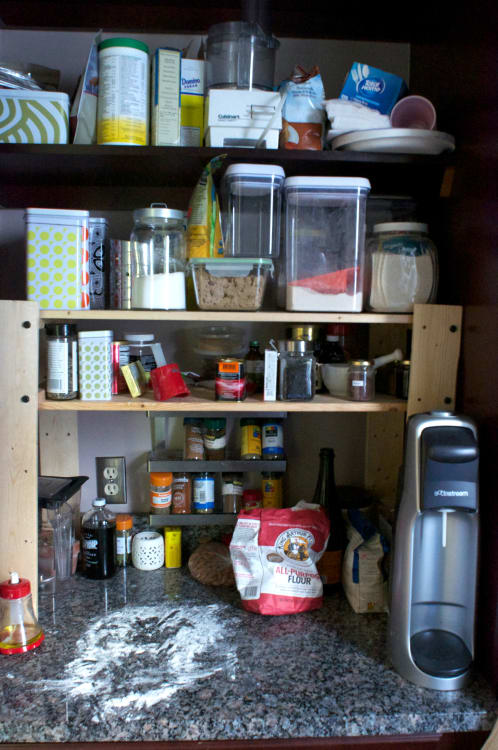 Day 2 Task: Declutter and clean pantry and food storage areas
Prior to moving a few months ago I cleared out my pantry of all the duplicates, oddities, and old stuff, so I thought this task was going to be a breeze. I'll just wipe everything down and straighten it up. Oh, and I guess I should probably try to clean off the sticky masking tape residue on my flour containers. And that's where my problems started.
That's my pantry above, prior to said cleaning out. As you can see, I'd used the countertop as a workspace to roll out pizza dough, and (per Sara Kate's instructions) did not clean it up before I took a photo! Everything else was generally just kind of sloppy. After straightening it up, it looked like this:
Not too bad! Feeling confident and optimistic, I decided to tackle the sticky residue on the tops and sides of my OXO flour containers. I'd put masking tape over the lids to keep everything together during the move, but when I unpacked, I realized the masking tape had left behind a sticky residue which I felt every time I touched the lid. This seemed as good a time as any to get a little Goo Gone (or, as I always mistakenly call it, Goo-Be-Gone) action on. Easy, right?
Wrong.
Let me explain.

Two and a half hours later I was sweaty, grumpy, my biceps were on fire, and I was ready to just throw away all my containers. Anything would be easier than rubbing, rubbing, rubbing, washing, feeling that there's still sticky stuff, so rubbing, rubbing, rubbing, washing, feeling that (argh!) there's still sticky stuff, and rubbing, rubbing, rubbing, washing, and (kill me now) there's still sticky stuff.
Why oh why it is practically impossible to remove masking tape residue from plastic Oxo containers? I don't know. But it is. Be warned. If you value your sanity, do not ever — I repeat ever — put cheap masking tape on your Oxo containers. You may not recover.
By this point I was over cleaning out the pantry. Whatever, man. If my flour containers are sticky, what's the point? The Goo Gone fiasco had sucked all my joy at having a neat pantry, but I knew I still had to wipe down and straighten my bulk jars, and clean out the cabinet next to the stove where I keep my oils, vinegars, tea, and salt and pepper.
So, fine. I'll do that. Here's my bulk shelf before:
And after:
My oil and vinegar cabinet before:
And after:
Ok, done. I have never needed a glass of wine so badly.
How did your pantry cleaning go?
Join The Kitchn Cure!
SIGN UP
FOLLOW ALONG
SHARE YOUR PROGRESS
Questions? Comments? Pictures? Email us at kitchncure@thekitchn.com
Follow and show your progress on Instagram, Pinterest, Facebook and Twitter! Use The Kitchn Cure hashtag: #kitchncure
(Images: Cambria Bold; gif via Tumblr)