Whole Foods Just Announced a New Discount for Amazon Prime Members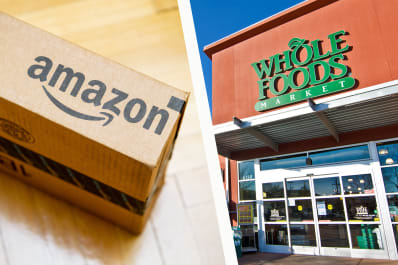 (Image credit: From Left to Right: Hadrian/Shutterstock; Whole Foods Market)
Ever since Amazon bought Whole Foods (for a whopping $13.7 billion!), the online retail giant has been working to bust that silly-but-accurate "Whole Paycheck" nickname.
Amazon started by slashing prices on small items like whole-trade bananas, avocados, brown eggs, and rotisserie chickens. There have been additional price cuts on other everyday items, and Amazon just announced another sweet deal for Prime members.
For now, though, it's only good news if you live (or happen to be shopping) in Florida. Prime members shopping in Florida stores can get an additional 10 percent off sale items (usually hundreds of products throughout the store), plus weekly discounts on select best-selling items.
Related: 5 Whole Foods Employees Share Their Favorite Budget Grocery Finds
The good news for us non-Floridians: The deal will expand to all Whole Foods Market and Whole Foods Market 365 stores nationwide starting this summer.
To get the discounts, you can either download and sign into the Whole Foods Market app, which you'll scan at checkout, or provide your phone number at the register once you've linked it to your account.
While you're shopping, look out for special blue signs, which will highlight deals just for Prime members (like two organic pineapples for $5). Spot a yellow sale sign and that means it counts for that extra 10 percent off.
Here's an example of some of these special deals happening in the Florida stores today through May 22.
Sustainably sourced, wild-caught halibut steaks: $9.99 per pound (save $10 per pound)
Organic strawberries: $2.99 for one pound (save $2)
Cold brew coffee at Allegro coffee bars: Take 50 percent off 16-ounce drinks
KIND Granola: $6 for two, 11-ounce bags
What do you think? Are you a Prime member and will you be taking advantage of this? Let us know in the comments below!
Kitchn supports our readers with carefully chosen product recommendations to improve life at home. You support us through our independently chosen links, many of which earn us a commission.