5 Whole Foods Employees Share Their Favorite Budget Grocery Finds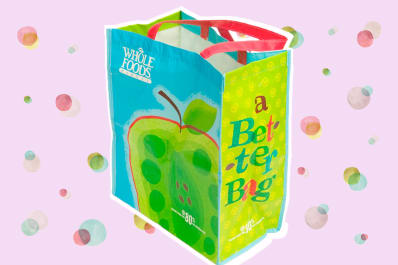 (Image credit: Courtesy of Whole Foods Market; Design: Kitchn)
Whole Foods is not exactly known for budget grocery buys. It's known for great prepared foods, a robust cheese selection, and tons of swanky organic, artisanal products that straddle the line between hippie and hipster. Since the company was purchased by Amazon back in August, however, prices started dropping on a lot of items.
With the lower prices and more frequent sales, it's possible to find really good deals at Whole Foods these days. We checked in with five Whole Foods employees to get their favorite budget grocery buys. Here's what they said to look for.
1. Whatever's on sale in the meat department
"Since the Amazon takeover, there are ongoing price cuts to multiple everyday items," says a Whole Foods cook of several years, who did point out that Whole Foods team members get a 20-percent discount, which makes a big difference in affordability. He says his family shops at Whole Foods, Costco, and Trader Joe's, and that while he thinks that fresh produce is often less expensive at Costco and Trader Joe's, his family does buy much of their meat from Whole Foods whenever something goes on sale. "We buy our meat at WF, when on sale mostly. We freeze a few pounds for later use," he says.
2. Salmon
"Atlantic salmon is always a good price," says Steve, from the seafood department, adding that he buys the sockeye salmon when it's on sale. At the time of this reporting, the fresh Atlantic salmon, which is farmed in Canada, was regularly priced at $9.99 per pound, while the wild, previously frozen sockeye salmon was $9.99 — on sale from $14.99 per pound. Checking for sale items really pays off, too. The day I was there, wild-caught Alaskan Red King Crab legs were on sale for $29.99 per pound (down from $39.99 a pound).
3. Ground beef
An Indiana Whole Foods employee named John suggested the ground beef, which was a pretty reasonable $3.99 per pound for a blend that's 85 percent lean, 15 percent fat.
Like most of the counters at Whole Foods, there seems to be one thing that's always reasonably priced, like the Atlantic salmon or the ground beef, and then an array of different sale options to check for once you're there. John initially specified the ground beef as a particular deal, but once we were looking at the meat section, he added boneless, skinless chicken thighs and ham — both of which were on sale that day — to his list of things that were particularly good deals.
4. Amy's soups
A Whole Foods employee named Susan in Indianapolis pointed out cans of Amy's soup on sale — two for $5 — as being a favorite budget buy, and less than you'd pay per can at most grocery stores. That particular day, though, she said the single best deal in the store was on kids' toys — including a huge range of Melissa & Doug toys — which were being offered at 40 percent off.
5. Honey-roasted, grind-your-own organic peanut butter
"Do you like peanut butter? Because our honey-roasted peanut butter is the best," gushed a Whole Foods employee named Sam. The peanut butter at the grind-your-own-peanut-butter station in the bulk foods aisle is $5.99 per pound (not super cheap, but not too overpriced, either), and it's a popular favorite. It's rich and creamy and sweet and salty, and you really can't put a price on the novelty of pulling a lever on a big vat of peanuts and having fresh-ground peanut butter pour out.
What's your favorite budget-friendly buy at Whole Foods?