The Top 10 Food Trends for 2019, According to Whole Foods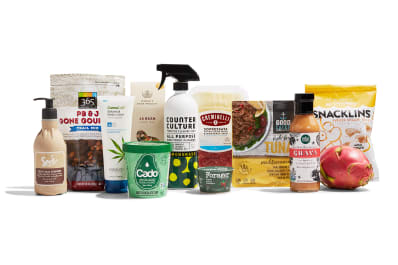 (Image credit: Courtesy of Whole Foods)
While we might all currently be head-down in the kitchen thinking about Thanksgiving, Hanukkah, and Christmas, Whole Foods is trying to give us the heads-up on what kind of food trends we'll be seeing next year. With 2019 less than a month and a half away, the company has released their annual forecast of emerging flavors, products, and culinary influences.
Compiled from the grocery chain's global buyers, the list of their top 10 food trends for 2019 includes hemp, fun frozen treats, and upgraded snacks. Read on to learn what you'll see stocked on shelves next year.
(Image credit: Courtesy of Whole Foods)
Pacific Rim Flavors
Asia, Oceania, and the west coast of North and South America contribute ingredients like Filipino pork sausage, dried shrimp, and tropical fruits to this trend. In practice, this looks like jackfruit as a meat substitute, passionfruit sparkling water, and guava vinaigrette.
(Image credit: Courtesy of Whole Foods)
Shelf-Stable Probiotics
Fermentation has been a foundation of every trend list for the last few years, but this year, probiotics have jumped from kimchi and yogurt into grocery store staples like granola, oatmeal, and nut butters. And they've even gone one beyond, showing up in cleaning products and sunscreen.
(Image credit: Courtesy of Whole Foods)
Fats Are Fun
Fat is back in a big way this year, which works well for people on keto, Paleo, and grain-free diets, as well as for anyone who just finally buried the last ghosts of the old "low-fat" way of thinking. Ghee, coconut oil, and MCT oil lead the charge, as they're incorporated into snack bars, vegan yogurt, and meat-based snacks like chicken chips and pork cracklin's.
(Image credit: Courtesy of Whole Foods)
Hit the Hemp
Health-focused eaters have been scarfing hemp hearts, seeds, and oils for years now, but this year, it's gone up to the next level. Technically CBD oil is still not legal in all 50 states, but companies have found ways around this, including hemp-plant stem cells and non-cannabis-derived sources from the endocannabinoid system. In short: hemp-derived products are going nuts this year!
(Image credit: Courtesy of Whole Foods)
Fake Meat Snacks
Plant-based foods continue to grow and grow, and now they've come to the snack aisle with imitations of beef jerky and pork rinds. Mushrooms play a big role in this category, as they're flavored to stand-in for various meat snacks.
(Image credit: Courtesy of Whole Foods)
Eco-Conscious Packaging
As cities have moved to ban plastic straws and compostable plates take over as the norm, plenty of companies have looked at how they can make their food containers eco-friendlier. Whole Foods itself is moving to recyclable, straw-less sipper lids, but overall look for beeswax food wraps, silicone storage containers, and other plastic alternatives for takeout, packing lunches, and more.
(Image credit: Courtesy of Whole Foods)
Trailblazing Frozen Treats
Look for innovations in ice cream and new takes on old favorites in the frozen dessert aisle. Bases like avocado, tahini, and coconut water bring new flavors and textures to plant-based frozen desserts. For omnivores, the ice creams have gone global, highlighting Thai rolled ice cream, airy Taiwanese snow ice, and stretchy Turkish ice creams. Oh, and lots of boozy popsicles and gelatos on the shelf.
(Image credit: Courtesy of Whole Foods)
Marine Munchies
Seaweed snacks hit the mainstream a few years ago, but now sea greens and friends are following suit, with seaweed butter and kelp noodles, puffy water lily seed snacks, and snackable salmon skins. Whole Foods is adding a sea fennel and olive blend to their olive bar, and you might see kelp jerky on the shelves.
(Image credit: Courtesy of Whole Foods)
More Snack Upgrades
It feels like this list is pretty snack-heavy, so perhaps that's the overarching trend this year, and part of that is going upscale with those snacks. Think fancy versions of those little cheese and cracker kits your parents would pack in lunches, classic candies made from fair-trade chocolate and puffed rice, and other ingredient-conscious packaged snacks.
(Image credit: Courtesy of Whole Foods)
Empowered Purchases
Shoppers care — who is making their food, how it's made, and what it's made with. From baked goods made with "radical inclusion" hiring practices to breakdown employment barriers to seeking out more women-owned businesses, one of the year's biggest trends is making it easy for people to use their buying power to support historically discriminated-against and disadvantaged populations.