25 Awesome White Elephant Gift Ideas for $25 or Less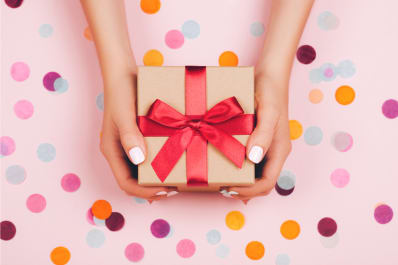 (Image credit: Efetova Anna/Shutterstock)
While some people prefer to shop with a specific loved one in mind, we really enjoy shopping for an unspecified person in a random group gathering. We get such a kick out of buying a silly gift and then watching people fight to steal (or get rid of!) said gift. Of course, we're talking about the classic White Elephant swap — where everyone brings a present of a set dollar amount and people take turns either stealing an already opened gift or taking their chance with something from the unopened pile.
In our experience, groups can be super wacky, competitive, or overly serious with their swaps. No matter what kind of crowd you're shopping for this year, we've got some suggestions.
If Your Group Is Super Wacky
The best group for a White Elephant is one of those anything-goes kind of groups. The kind of group that doesn't hold back, doesn't worry about making sense, and is just there to have a good time. If that's the crowd you're shopping for, use this list.
Why, though? If you're confused by these key chains, don't worry — we are too. They make no sense! Which is exactly why they make such a great White Elephant gift.
It won't matter if everyone at the party has seen Parks and Recreation or not — this poster is funny no matter what. Because it's a giant picture of bacon, eggs, and toast!
These oven mitts are wacky but useful. They could even double to help out with next year's Halloween costume. Or as some fun photo booth props during your holiday party.
A cheeky take on the flamingo pool floats that show up all over your Instagram feed during the summer, this version is ceramic and meant to hold treats.
5. A slice of pizza
We saw this idea on Instagram and couldn't help but giggle. Seriously, how funny would it be to wrap a slice of pizza up in tinfoil and then super-festive wrapping paper? People will assume it's pizza by the shape, but they'll think, there's no way! Then, surprise! Pizza! (You could also get this Portable Pizza Pouch to go along with the slice.)
If Your Group Is Really Buttoned Up
Sometimes, a slice of pizza is just too out there for a particular group. Maybe you're headed to your boyfriend's parents' house for the first year or maybe your office is just a little more serious. No worries — we've got you covered in this case, too.
If you can't get through a single workday or gathering without someone talking about how much they love their Instant Pot, this is sure to be a crowd-pleaser. Williams Sonoma launched a bunch of starters earlier this year and they've been a top seller ever since.
There are a bunch of avocado tools on the market, but this is by far the best. Pair it with with few avocados and you have a semi-silly, totally practical, non-offensive gift.
Help someone get into the holiday spirit with these festive napkin rings. There are also matching drink stirrers.
Shopping for a group of apartment-dwellers? This mini waffle maker will help brunch dreams come true without taking up a ton of space.
An updated take on the classic Himalayan salt lamp, this one lights up in an array of various colors. It'll hit a nostalgic note with the older folks and warrant an "Oh cool!" from the younger set.
If You Know People Will Get Competitive
Got a group that's going to steal presents from other people, rather than picking a new gift from the pile? That's when White Elephant swaps are the most fun! Get something so good, you know people are going to want to steal it. Muhaha!
We normally don't love a candle as a gift (they're so impersonal), but we make an exception for a White Elephant, when you don't know who you're shopping for. This one smells like lemons and cinnamon, and the container is far more fun than the standard jar we usually see.
How can this be just $20? Everyone will assume you went way over the group limit and therefore, everyone's gonna want it. Sweet!
Ditto for this pitcher. And if your group limit is $25 or less, you're going to come in way under budget. If you want to make it even more enticing, you could throw in some of those little airplane bottles of booze.
These cheese knives are downright gorgeous. Even your coworker who hates to entertain will want these.
Target's in-house brand, Opalhouse, has been crushing it since the day it launched last spring. All things cactus are super-trendy these days, and we love the little gold accent — and the fact that this is a cookie jar!
If You Need to Amazon Prime It
Waited till the last minute, didn't you? Probably because you knew Amazon Prime would save you? It will — as long as you know where to look. Here are five gifts we'd love to see at a white elephant.
This gift is just wacky enough but still totally functional. It'll remove onion, garlic, and fishy smells from soiled hands and could be a hot item during your swap.
People don't give enough food at these things. Nearly everyone loves an RXBAR, so why not get a bulk pack that's sure to earn some laughs and some envy?
Ina Garten's latest cookbook is already a bestseller and definitely something that people are going to want to steal. If this one is too serious for your crowd, consider this Ranch dressing-themed cookbook.
While other people in your group may reach for an uninspired gift card to a coffee chain, you can do a little better with this top-of-the-line French press.
Class up the gathering with this Prosecco Pong set. The rules work just like Beer Pong, only you use the included plastic coupe glasses instead of red Solo cups. And prosecco instead of beer!
If You're Feeling Super Creative
Why buy something off the rack when you've got a creative and mischievous side? Cook up something clever with one of these customizable gift ideas.
Got something clever to put on a tea towel? This shop can make it happen. Just include your message (ideally one to three lines!) in a note when you make the purchase.
Fill this picture frame with your own mugshot. Or maybe a pic of your boss (for an office swap). Or Guy Fieri. Or anything that'll get a laugh. After the joke has run its course, the recipient can repurpose the frame and swap in a picture they actually want to look at.
Don't worry, there isn't actually a snack hat in this box. It's a joke, which means the rest is on you to figure out what to put in this silly package.
Pick up a bottle of red and then go to town coming up with something funny to say on this custom wine label. Note: You'll need a printer, as this is an instant download.
Make a batch of your favorite salted brownies to go along with this cute set. Or consider typing up a few of your favorite sweet recipes to make a mini cookbook instead.
Got a better idea for a White Elephant gift? Tell us about it in the comments below!
Kitchn supports our readers with carefully chosen product recommendations to improve life at home. You support us through our independently chosen links, many of which earn us a commission.