The Internet Isn't Sure How to Feel About This $250 Egg Spoon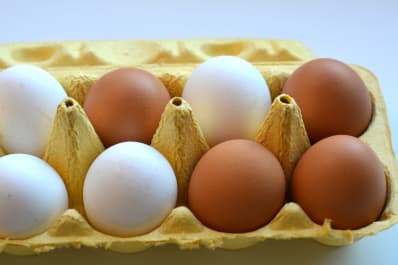 (Image credit: troshina/Shutterstock)
I am an unrepentant cheapskate, someone who is familiar with every Dollar Menu within a 10-mile radius and also someone whose friends have asked her to please stop using each Keurig K-Cup more than once. I recently ordered the sous-vide egg bites at Starbucks, and when my four-bite breakfast came out to five bucks with tax, I decided that I'd stick to scrambling more affordable eggs in my own kitchen.
So I'm not exactly the target market for a $250 egg spoon, is what I'm saying.
Wait, what's an egg spoon?
For those of us who are new to the egg spoon, it's basically a very tiny, very expensive cast-iron pan with an ultra-long handle, used to prepare a single egg over an open fire. Alice Waters, the founder and chef at Chez Panisse, has had a long relationship with this particular utensil. "[S]he picked up a large copper spoon with a two-foot handle. She rubbed olive oil into the spoon's cup and cracked in one of the eggs. I saw the golden-orange yolk," a rapt Daniel Duane wrote for the New York Times in 2012. "Holding the end of the spoon's handle, Waters extended the egg into the fire. She held it there until the white turned opaque and puffed like a soufflé."
Why do people care about this, anyway?
But the Great Egg Spoon Debate seems to have reached a hand-forged fever pitch earlier this week, when the New York Times wrote about those spoons, about Waters, about Anthony Bourdain's sneering comments about both of them, and about whether or not the backlash against the egg spoon is sexist. But mostly the piece contained lines like this: "Even if the egg spoon was merely aspirational, it set the bar for a simpler way of cooking and eating — one in which a fire-roasted egg slipped onto levain toast seemed the antidote to an unthinking, tech-dominated culture fueled by unhealthy, overly processed food."
The Times' comment section was unsurprisingly split, with some commenters defending anyone's right to fire-roast their own breakfast and others mocking the excess of spending $250 for something that looks like it was stolen from a turn-of-the-20th century campsite. (And a smaller subset criticized anyone who would contribute to our planet's environmental decline by cooking anything over a fire, for any reason).
Twitter was equally indignant, because Twitter is always indignant.
"Forge friendships, not spoons," Massachusetts-based craft confectionery Rogue Chocolatier tweeted, which is far from the silliest thing we've read today. Sure dude, I'm in.
So, what do you think about the egg spoon?