Which Country Consumes the Most Wine? You Might Be Surprised.

Mirror, mirror, on the wall, which nation consumes the most wine of them all? You may be inclined to put your money on France or maybe even Italy, but the real winner of the highest per capita consumption of wine is another lesser-known European nation.
Can you guess what it is?
The tiny country of Andorra, located between Spain and France in the Pyrenees mountains, consumed nearly four-million liters of wine in 2014, according to data from the Wine Institute. With a population of 69,000, this means each resident polishes off about 76 bottles a year.
After Andorra, the top-five list includes Vatican City, Croatia, Portugal, and France. Those nations are followed by Slovenia, Macedonia, Falkland Islands, Switzerland, Italy, Saint Pierre and Miquelon, Moldova, Austria, Uruguay, Greece, Romania, Saint Helena, Bermuda, Sweden, and Germany.
While the United States did not even make the cut for the top-30 list for per capita consumption — it ranked 55th — it does go through the most wine, with 3,217,500,000 liters guzzled in 2014.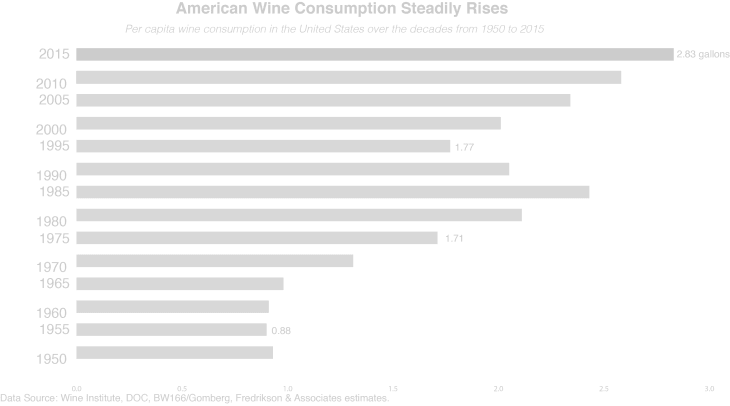 According to Conde Nast Traveler, a 2015 study found that Americans have been steadily increasing their wine consumption over the past two decades. Data from the Wine Institute shows this spike in intake: In 1995 the per capita consumption was 1.77 gallons, and in 2015 that number went up to 2.83 gallons.
As for largest wine producer, that title goes to France for the 2014 calendar year, according to an International Wine and Spirits Research report. That said, Italy reportedly overtook France in 2015.
Published: Feb 22, 2017