Where to Shop to Get the Best Deals on Really Good Halloween Candy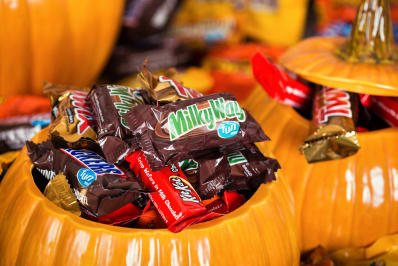 (Image credit: Photo: leekris/Getty Images)
Do you live on a Halloween street? The kind that attracts trick-or-treaters from all over town? I do, and preparing for October 31 is no joke. One year we spent over $100 on candy. (This included an urgent, mid-evening run to CVS when the bottom of our plastic pumpkin appeared. Not recommended.)
This year I did a lot of work in advance to figure out how to fill your caldron without emptying your wallet. Here's where you should be shopping.
Willy Wonka would be humbled. An obvious go-to, Target is winning with great prices and a fabulous selection, online and in stores. Just one major thing: If yours is anything like mine, shop early (like, now) or be met with bare shelves.
Target's website lets you see if what you want is in stock at your local store and even gives you an aisle number, so you can run in quickly and find what you need without getting sidetracked by all the new Threshold gear (yeah, right). The website also breaks down candy into a multitude of categories like organic, multipacks, and items exclusive to Target(like monster-shaped Reese's for $3). Another feature asks you how many trick-or-treaters you expect and then directs you to choices from the modest $2.50 bag of 17 Caramel Apple Pops to their largest, 450 pieces of Nestle favorites for $20.
Walmart wins the price war by strategically pricing many similar items 45 cents below Target's prices. Not as much of its vast stock is available for shipping, although you can order online and pick up locally.
They offer a 250-piece Mars Favorites bag with Milky Way, Twix, Snickers, 3Musketeers, and M&Ms for $19.54. They also have a Skittles, Starburst, Life Savers, and Hubba Bubba Gum Halloween Candy Grab Bag, including 92 pieces, for $6.
Walmart's discounts also potentially allow you to be that neighborhood myth maker and hand out full-size candy bars: The store offers an 18-count Hershey's Chocolate Full Size Variety Pack for $12.
In their typical fashion, Costco brings you quantity and value, but limited choices. (And if Halloween isn't your thing, my local Costco had Christmas merch up when I was there ... IN SEPTEMBER. Talk about scary! Too soon!)
A 5.75-pound of Funhouse Treats (non-chocolate candies of Swedish Fish, Nerds, Twizzlers, and Haribo gummi bears) costs $14. The Mini Favorites bag features five pounds of tiny Snickers, Baby Ruths, Butterfingers, and more for $15. The All Chocolate Bag, for $16, has 5.6 pounds of the larger "fun" size chocolate candy. The mix contains Snickers, M&Ms, Reese's Cups, Milky Ways, Almond Joy, Twix, York Peppermint Patties, Kit Kat, and 100 Grand bars.
Tip: Never pay more than $20 for four pounds of candy. Ideally, you can pay closer to $15 and get even more candy.
Where are you planning on getting your Halloween candy? Did you already get it? Where did you shop and how much did you pay?
Kitchn supports our readers with carefully chosen product recommendations to improve life at home. You support us through our independently chosen links, many of which earn us a commission.