At Rehoboth Beach, the Never-Changing Eats Are the Appeal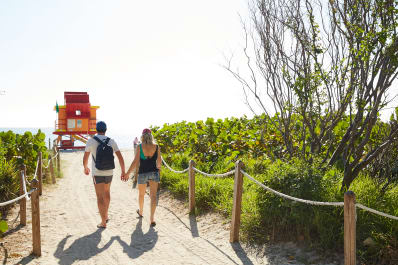 (Image credit: Tara Donne)
I am a creature of habit. I come by it honestly; so are my parents, who began visiting Rehoboth Beach, Delaware, in the late 1980s and never stopped. For nearly every one of the last 25 years, summer for me has meant trekking out to this tiny seaside town.
Sometimes I wonder why my family never branched out, why we so willingly became creatures of habit. But here's the truth: There's something marvelous about eschewing the new in favor of the familiar, of reveling in the warm embrace of memory.
A Brief Introduction to Rehoboth Beach
Founded in the late 19th century as a site for Methodist camp meetings, today Rehoboth is a quaint, family-oriented and LGBT-friendly beach town wildly popular with people from the Mid-Atlantic states, who balloon its population of 1,400 souls to more than 25,000 in summertime. Despite the crowds, Rehoboth Beach remains somewhat off-the-radar to most Americans, which is perhaps why change comes so hard and slow here.
Consider the boardwalk, spectacularly lined with thick wood planks and packed with grubby pizza cafes and tchotchke stalls hawking hermit crab. Stretching a mile long, it is Rehoboth's beating heart, glorious in a way I imagine the Jersey Shore once was half a century ago, long before it became fodder for reality television.
Today, trendy kids may flick their fidget spinners and angle for stuffed Pokemon prizes at the beach-front carnival, but the gleaming orange sign for Dolles saltwater taffy — the most defining structure on the boardwalk — looks exactly as it did when first installed back in 1962.
Where to Eat in Rehoboth Beach
The food scene is equally unchanging. Sure, an incredible number of new restaurants and cafes come and go every season (family trips always begin with one loop of the minivan around the main drag to take stock of recent additions). But the decades-old places that anchor every summer, that we plot careful pilgrimage to, remain the same.
There's Grotto Pizza, with its crisp-bottomed pies slathered in thick, just-sweet tomato sauce and blanketed with a signature swirl of molten cheese, which gives the pizza the ringed appearance of an ancient log sliced open. Eat a slice too quickly and you're likely to burn a layer of skin from the roof of your mouth.
Steps away is Thrasher's Fries, the standard against which all other french fry purveyors are judged. Here, impossibly crispy fries overflow from large cardboard buckets, soon translucent with peanut oil. They're given a heavy flourish of salt, a pungent slosh of malt vinegar, and absolutely no ketchup. Requests for that condiment will be met with jeers of derision! (It's also advisable to protectively cover your fries with one hand spread wide; brazen seagulls congregate in front of Thrasher's for a reason.)
Gus & Gus is where I go for beachfront gyros and cheesesteaks, served up spectacularly hot and greasy from an ancient griddle. There's a wonderful timelessness to this place, which was founded in 1956 and doesn't look to have enjoyed a single update since. Shirtless patrons sit at the formica bar and fake wood-paneled booths, which feature long-out-of-commission tabletop jukeboxes, and there is a distinct sense that the health inspectors might bust in at any moment. They haven't yet, and I hope it stays that way.
The beach isn't for fancy meals — not in my family, at least — but once a trip we'll splurge at Jake's Seafood House. There are $30 entrees, sure, but "dressed up" here means you've showered and gotten most of the sand from behind your ears. Our time-honored order always begins with seafood bisque, thick and enriched with cream, followed by crisp, no-filler crab cakes spritzed with lemon juice, and buttery flounder stuffed with a decadent mound of Old Bay-spiked crab imperial.
The sweet ending to most meals is Kohr Brothers for towering cones of velvety custard in vanilla, chocolate, or orange sherbet varieties. There are newer flavors, but I don't care to acknowledge their existence. Cones are best enjoyed seaside — the cool, sugary hit of the custard is perfect companion to the briny smack of a seaside breeze, and eating one even a block farther from the boardwalk doesn't achieve same effect.
Do you take the same vacation every year? Where do you go?