Sweden Wants You to Add Oat Milk to Your Morning Coffee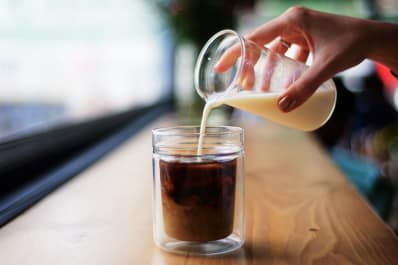 (Image credit: borabakan/Getty Images)
It's no exaggeration to say that Swedes have a habit of changing the world for the better. Thanks to the innovators in that glorious Scandinavian country, we have three-point seatbelts, those IKEA bookshelves you've been putting together all weekend, and ABBA. And now another Swedish company is trying to help the environment, cut down on greenhouse gases, and give us something new to splash in our morning coffee.
If you've scanned the menu at your go-to cafe, you might've noticed that they've started serving drinks with oat milk. (This is doubly true in New York City, where more than 350 coffee shops are now crushing hard on oat milk). But what exactly is it? Well, it's not just a clever name: it's a dairy-free, gluten-free, nut-free milk drink made from a combination of old-fashioned or steel-cut oats and water. The oats and water are blended together, the liquid is separated from the solids and, just like that, you're ready to make a cap-oat-ccino.
Oat milk started appearing in Stockholm coffee shops a couple of years ago, but it has since been imported Stateside and is becoming a fast favorite of baristas, people who are looking for a new non-dairy alternative, and environmentalists. (One NYC chain switched out its almond milk for oat milk, due to the increased strain that growing almonds puts on California's water supply). Its taste has been described as reminiscent of the "layer of cream that sits atop a bowl of porridge."
It has also been praised for its low fat and sugar content. One cup of Oatly brand oat milk contains 120 calories, 5 grams of fat, 16 grams of carbohydrates and 2 grams of protein.
Oatly, the Swedish company whose oat milk is being imported into American coffee shops, was formed in the early 1990s out of a desire to develop a non-dairy milk for people who either didn't like or just chose not to drink cow's milk. Twenty-plus years later, it's still making oat milk, with an extra focus on the environment; by skipping the cows, the company cuts down on methane and nitrous oxide emissions, two greenhouse gases that are byproducts of livestock. (In one commercial, Oatly CEO Toni Petersson sits in a field of oats singing "Wow, no cow" for 15 seconds, which is the exact length of time that one can tolerate a man singing "Wow, no cow.")
If you want to give oat milk a try, you can hit up your local coffee shop for a latte with oat milk froth, you can order Oatly's products from its website ($23 for six 32-ounce cartons), or you can just make your own. One food blogger says the entire process takes about five minutes and just requires old-fashioned rolled oats and water, a blender, and a cheesecloth bag to strain it through.
Get the recipe: Homemade Oat Milk from The Conscious Eater
Have you tried oat milk? Have you made your own? And did you listen to ABBA's Greatest Hits afterward? Let us know in the comments.