What's The Best Way to Wake Up? Real Bacon or an Alarm Clock That Smells and Sounds Just Like Bacon?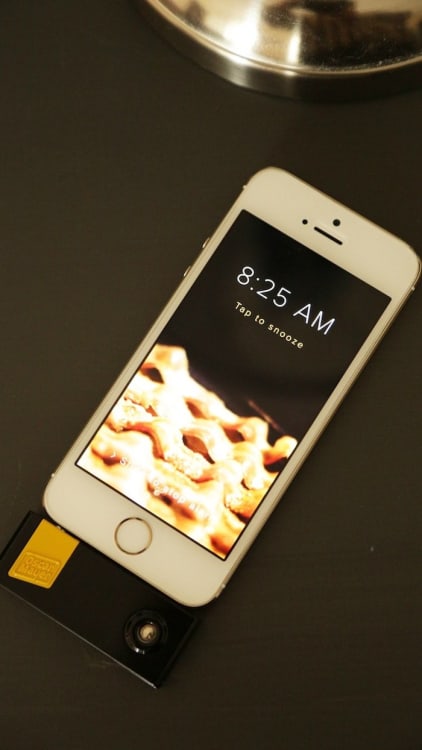 (Image credit: James Herron )
Oscar Mayer recently released an iPhone app "Wake Up & Smell The Bacon" that replaces your morning alarm with the sound of sizzling bacon and "baconisms," a prerecorded voice telling you sweet things about bacon. While the app itself is free, as of right now Oscar Mayer is only giving away a limited amount of iPhone attachments that let people actually smell bacon.
So, is it worth trying out? I obviously needed to find out, and what better way to analyze the app than by comparing it to waking up to real bacon? Read on for my complete analysis.
TEST ONE:
For the first test I had my boyfriend wake me up to the smell of real bacon. It smelled amazing. Duh.
(Image credit: James Herron )
I woke up super happy AND I got to eat bacon in bed.
(Image credit: James Herron )
CONCLUSION: Waking up to real bacon is awesome. Smelling AND eating bacon is the best thing ever. You can't, however, depend on this as an alarm for everyday mornings. Sometimes people don't want to get up and make you bacon in the morning and that's OK.
TEST TWO:
For the second test I set my alarm to 8:25am. I made sure the bacon smells, baconisms, and vibrate settings were all activated.
(Image credit: James Herron )
Then the alarm went off and I smelled and heard amazing things.
(Image credit: James Herron )
I woke up very happy and ready to start my day.
(Image credit: James Herron )
CONCLUSION: The bacon iPhone app was very easy to use, and obviously better than convincing someone else to make your breakfast in bed. The smell attachment, unfortunately, didn't have as strong of a bacon smell as I would have liked. Also, you don't get to actually eat bacon first thing in the morning, so it's kind of a tease.
Where this app really shines, however, is the baconisms. As the alarm goes off at your desired times, a strong soothing voice whispers sweet nothings about bacon, including things like: "There is an empty skillet in every one of us begging to be completed by a strip of bacon," and "Time passes and civilizations crumble, but bacon is forever." I mean, who wouldn't want to wake up to those inspiring words?
FINAL VERDICT:
While it would obviously be nice to wake up to real bacon, it's hard to get someone to make it for you every morning. Even if someone was willing to do it, you couldn't guarantee that they would wake you up at your desired time. The Oscar Mayer bacon app left me feeling happy and ready to start my day, just like real bacon, and I was able set the exact time my alarm would go off. Therefore, the bacon iPhone app is my preferred way to wake up in the morning.
Learn more about the Oscar Mayer bacon app and apply for a chance to get the bacon smell attachment → Wake Up & Smell The Bacon