What's the Best Way to Cook Frozen Peas?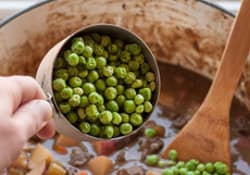 Q:
Whenever I use frozen peas in a recipe, half of them wind up sweet and tender, and half wind up hard and gross. Sometimes I thaw them, but it doesn't seem to make a difference. I love peas, and frozen ones are a great last-minute addition to anything. What's going on here?
Sent by Claudia
Editor: Is it possible that you're mixing an old batch of peas and a new batch of peas? That's the only thing that I can think to account for the difference in texture. Also, if you're just using a few cups at a time and have open bags in your freezer, be sure to seal the bags tightly and then store them in an airtight zip-lock bag or container to protect them from freezer burn.
Readers, any other ideas or advice for the best ways to cook peas?
Related: How to Make a Great Beef Stew from Scratch
(Image: Emma Christensen)