What Jonathan Gold Meant to Home Cooks (in Los Angeles and Beyond)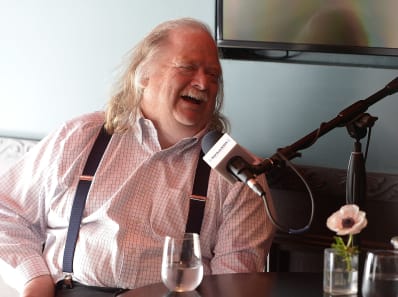 (Image credit: Charley Gallay/Stringer/Getty Images)
The late Los Angeles Times food critic Jonathan Gold — who died this past weekend from pancreatic cancer at age 57 — had the ability to cause two types of stampedes.
The first one was nearly instantaneous, as readers of his reviews and listeners of Good Food (the radio show based out of public radio station KCRW-FM 89.9 in Santa Monica, California, where Gold offered recommendations for 20 years) flocked to his restaurant choice of the week.
The second stampede was slower, but in some ways even more significant: Over the past 25 years, Gold's constant championing of immigrant cuisine helped change the way Americans cooked at home.
The underlying message in all his reviews was for readers to respect and support the makers of the food that he constantly hailed, and to not just leave their appetites at the restaurant. His eternal plugs for ethnic markets and products encouraged faithful followers to try their hand at these dishes in their own kitchens. Not only were these cuisines approachable, he'd argue, but their ingredients were also readily available — if only you looked for them.
From Restaurant Kitchen to Home Kitchen
"For home cooks, the link between eating out and cooking is so fluid," says Good Food host Evan Kleiman, a close friend of Gold. "You taste something you love and you want to make it. I've always imagined a stop-motion segment of people's pantries expanding as their palates expand with Jonathan's encouragement."
Such advocacy came from experience: Gold was an avid home cook who often discussed his favorite new products on Good Food, which has a national audience. Dinners at his home in Pasadena were a chance for close friends to see the real man and what made his reviews so passionate and informed.
"I'm sure he would argue that one can't write restaurant criticism without having the passion and hands-on experience it takes to be a cook," writes Los Angeles Times Test Kitchen director Noelle Carter, in a roundup of some of Gold's favorite recipes and cooking essays published shortly after his death. "Jonathan might have been most at home in the kitchen, pleasing those closest to him with food as he pleased so many of us with his words."
"Every time he came back from a vacation to Italy where he and the family would go each year, we did an on-air debrief," Kleiman remembers. "It inevitably included a list of what he jammed into his suitcase and managed to get through customs. Guanciale was the constant victory, that excellent cured pork cheek that he used in dishes instead of pancetta."
A Champion for the Very Best Ingredients
Beyond general encouragements to cook, Gold always took time to plug specific products as well, according to former Good Food producer Gillian Ferguson. "I'd find it hard to believe if Aladdin Nut House didn't see a spike in pistachio sales every time Jonathan mentioned them on the air," she says. "Or that [vendors] didn't sell a few more Sir Prize avocados after Jonathan extolled the superpowers of an avocado variety that doesn't oxidize when cut."
---
The underlying message in all his reviews was for readers to respect and support the makers of the food that he constantly hailed, and to not leave their appetites at the restaurant.
---
Raising an Army of Curious Cooks
The end result of Gold's career is an army of people ready to eat and experiment back home. One such chef is Blas Rodriguez of Boston. The 31-year-old grew up in Southern California on Gold's articles and Good Food appearances. Any time she returns home, she tries to check off as many of Gold's recommendations as possible.
On her last trip back home this spring, Rodriguez decided to buy flour tortillas from a small maker, Burritos La Palma, after Gold deemed artisanal tortillas a trend to watch in LA for 2018. He had previously described La Palma's tortillas as "toasty, stretchy" and deemed their namesake one of his five favorite burritos in Southern California.
"Tortillas aren't exactly the best back East," she says with a laugh (she's lived in Boston for three years).
Rodriguez went to La Palma to buy a pack, only to discover that they didn't sell retail. But after enough cajoling, Rodriguez scored a pack.
"They were even better than what Jonathan Gold said," Rodriguez says. "They were smaller than I thought, but were soft and perfect for quesadillas."
Now, Rodriguez has her family ship a boxful a month.
"The great thing about Jonathan was that he was like a professor," she says. "He'd talk about a new dish, and not only challenged you to go eat it, but also knew you'd like it so much that you'd want to make it at home. So then you'd have to research. Where do I get Thai spices? Or the proper masa for pupusas? Jonathan forced you to look. And it was always worth it."