What Is Vintage Champagne, and Should You Pay More for It?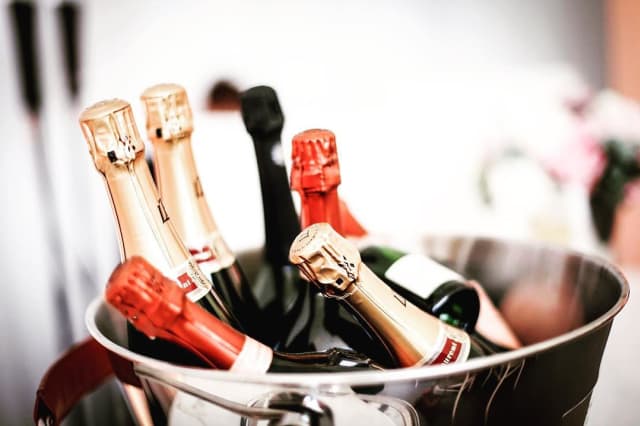 (Image credit: Courtesy of Laurent-Perrier)
This time of year, when chocolate hearts line the drugstore aisles, roses fill the flower shops, and love is in the air, it feels fitting to drink something fizzy. I would argue that even if your romantic situation is, like mine, somewhat nebulous, it's just as appropriate to pick up a bottle of bubbles and make a big deal out of a Tuesday night.
But perhaps this year is an extra-special occasion. Maybe you're thinking of popping the question (and, hopefully, a celebratory bottle when your boo says yes). Maybe you're celebrating a big anniversary. Or maybe you've just made it through the year as a couple and that's plenty (it's been a doozy).
Whatever the case, you want a Champagne that's a little more unique — maybe a vintage bottle? The only thing is, you're not 100 percent sure what a vintage bottle is and why it costs so much. We're here to answer your questions, with a little help from the president of Laurent-Perrier US, Michelle Dagny DeFeo.
What Is Vintage Champagne?
Look at the bottles of bubbles on the shelves and you likely will not see a year. That's because most Champagne is non-vintage. In other words, that Champagne is made from grapes from several different years.
By contrast, vintage Champagne is made from grapes harvested from just one year. It's likely still a blend of grapes — commonly Chardonnay, Pinot Noir, and Pinot Meunier — but all from a single year.
If you're still with us (this wine stuff can get complicated), you may be wondering why most Champagnes are a blend of years (i.e., non-vintage). The answer, says Dagny DeFeo, is weather: Champagne is one of the northernmost wine regions in the world, which means it's cold and subject to hail and freezing.
"Some years wouldn't get ripe enough; other years would get overripe," explains Dagny DeFeo. In order to get consistency year after year, Champagne houses started keeping older wines in tanks and blending them with the wine made from the current year.
(Image credit: Courtesy of Laurent-Perrier)
Why Does Vintage Champagne Cost More?
The other defining characteristic of vintage Champagne is that, by law, it must be aged a minimum of four years. By comparison, non-vintage Champagne has a 15-month minimum. (Note: This doesn't mean that non-vintage Champagne is only aged for 15 months; three years is actually standard and some houses, including Laurent-Perrier, age their non-vintage Champagne for even longer).
This is part of what makes vintage Champagne cost more (sometimes a lot more): More time to market means a higher price tag. It's also the case that vintage Champagne — or really vintage anything — is having a cool-kid moment, albeit in a major wine geek kind of way.
Think of vintage Champagne like single-origin coffee or chocolate. Basically, what you're getting from any of these things is an expression of a particular place and time. And that can be interesting and even great.
What it isn't is consistent. And that's what you get from non-vintage Champagne. "You can celebrate at every point in life and have almost exactly the same bottle," says Dagny DeFeo.
How Much More Should You Pay for Vintage Champagne?
First, you should decide if you really want vintage Champagne. Maybe you do! But maybe what you really want is that bottle of really good, really consistent Champagne. As Michelle notes, "Many people are only buying one bottle a year — and you want to be able to trust it."
But if your heart is set on vintage, the sky is really the limit in terms of price. Obviously the older the bottle, the more you can expect to pay. For a relatively "new" vintage bottle, a 20 to 30 percent premium is fairly common. For example, Laurent-Perrier Brut Non-Vintage Champagne retails at around $40; for a bottle of 2006 Laurent-Perrier Brut Millesime (i.e., vintage), you'll pay north of $50.
3 Vintage Champagnes to Try
Have you tried vintage Champagne? How did it compare to the non-vintage stuff?
Kitchn supports our readers with carefully chosen product recommendations to improve life at home. You support us through our independently chosen links, many of which earn us a commission.