Here's What You Need to Know About the "Dirty Snowman" Drink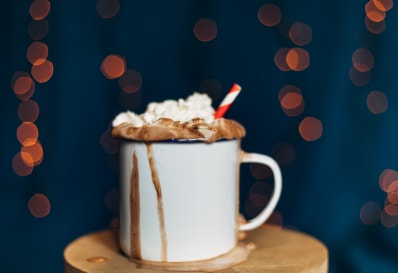 (Image credit: WillemijnB/Shutterstock)
As a kid, you probably drank hot cocoa by the gallon. It always seemed like the right time for a cup of hot cocoa, and yet in adulthood I would bet that you don't drink it too much anymore. What hot cocoa really needs is a grown-up upgrade. Enter: the Dirty Snowman cocktail. It's basically childhood nostalgia with a boozy twist.
What Is the "Dirty Snowman" Drink?
Though it's not exactly new, the Dirty Snowman is gaining popularity for good reason: The drink combines a ton of chocolate, ice cream, and whipped cream. Dessert that you can drink? Sounds fine by me. All you need is some chocolate shavings for the rim (to make it look fancy, of course), half a pint of vanilla ice cream, and a couple packets of hot cocoa. Sure, you could make your own hot cocoa but doesn't the powdered mixture just taste more like childhood? Combine those ingredients with a splash of Baileys, and top it with whipped cream, and you've got yourself a drink that will help you forget it's so cold outside.
Variations on the Dirty Snowman
There are some variations on the Dirty Snowman: If you really want to flex your amateur mixologist muscles, you can line the rim of your glass with chocolate and hazelnut shavings, and mix Cognac, and a dark beer like Guinness, with splash of coconut milk. Another version combines Absolut Vanilla with hazelnut liqueur and Baileys. It's up to you how strong or sweet you want to make it. Looking for yet another way to make an adult version of hot cocoa? Try adding red wine to it. Yes, you read that right. Turns out red wine goes great with milk and melted chocolate.
Embrace your adventurous side and make the Dirty Snowman your go-to holiday drink. Serve it at parties. Drink it in front of the Christmas tree. Return to a time when drinking hot cocoa in your warmest socks and pajama set was an essential part of your routine.