What's the Best Brand of Butter for Baking?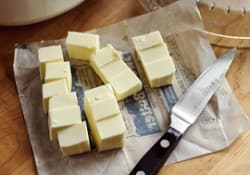 Q:
I am making the
Overnight Buttery Streusel Coffee Cake
for a brunch I'm having on Sunday. The recipe recommends using Kerrygold Butter, but I'm wondering what other brands people like to use for baking?
Sent by Elle

Editor: Nealey recommends Kerrygold for her Overnight Buttery Streusel Coffee Cake because it makes the cake taste extra-rich and tender. For special occasions like wedding showers and birthdays, I love using Kerrygold or similar "fancy" butters — it's worth a splurge on the good stuff at these times! For everyday baking, however, I usually use a butter that just tastes good to me, like Trader Joe's brand or Land O'Lakes.
Readers, what brand of butter do you use for baking?

(Image: Emma Christensen)