6 Fruit Facts I Learned While Visiting Driscoll's Berry Farms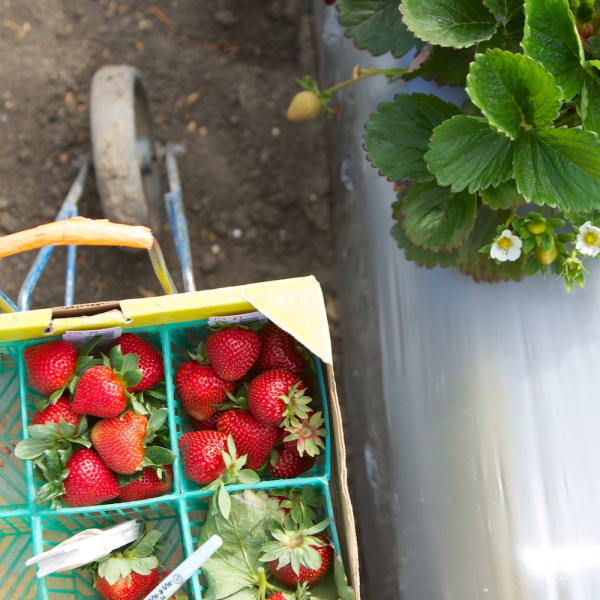 Traveling can always be filed under the category "learning experience." For a moment's time, you're set outside your bubble and thrust into the unknown with unfamiliar cultures, traditions, and thoughts. Those elements are why so many people become enamored of travel — it's fuel for an open mind. Though not as cultural as a trip abroad, perhaps, my most recent trip took me to the fields of Driscoll's berry farms on the coast of northern California. I learned quite a bit.

1. There are multiple varietals of strawberries

The stack of clamshell containers filled with strawberries at your local grocery store may contain one of several different strawberry varietals. I tasted all of these varietals — with names like San Juan or Ana Maria — side-by-side and there was a noticeable, yet small, difference. So if you find that you love a particular batch of berries one day more than the next, it's likely you scored your favorite variety that day.
2. Berries are delicate

Once ripe, even rainfall can damage the skin of a berry. Growers go out and harvest the berries before a rain to salvage the crop. The raspberry, blackberry, and blueberry fields we visited were covered in tents to protect the fruits from extreme heat and to shield them from mild rain.
3. Picking raspberries is tough work

We're not the only creature that loves berries — apparently bees do too. Workers wear protective gear throughout the day for protection from stings while they pick the ripe berries from the vine. As part of our tour we picked some bright raspberries amongst the bees. I ate just about every other berry I picked.
4. There's a passion for organics

Organic farming is more difficult and yields less fruit, but there is a certain art to it that farmers who choose to grow organic seem to appreciate. One of the growers we met likes the new challenges organic farming presents. It keeps things interesting, and he believes that he's establishing methods and techniques he can teach to his children and grandchildren. Where a commercial farmer may use pesticides and other chemicals to protect their crop and yield a good harvest, this organic farmer used things like ladybugs and what sounded like the equivalent of an insect vacuum.
5. Berries can make for one heck of meal

If you think beyond the berries in granola for breakfast or berries in your ice cream for dessert, you'll be rewarded with a sweet surprise. This particular beetroot and yogurt soup with blackberries and lime created quite a complex blend of earthy and sweet flavors.
6. Berries are beautiful
After the tour, I had an even greater appreciation for my favorite group of fruit. Picking them off the vine was a special experience to taste and to savor.
(Information for this post was gathered during a press trip sponsored by Driscoll Berry Farms. All views and opinions expressed in this post are the personal views of the author.)

(Images: Chris Perez)