My Healthy Morning: Hannah Black and Carla Perez-Gallardo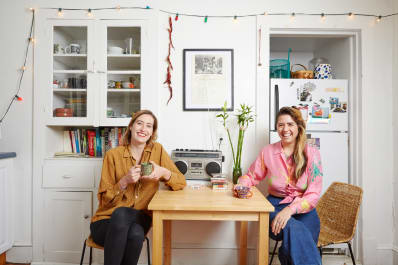 (Image credit: Tara Donne)
Welcome to Kitchn's series My Healthy Morning, where we show you how one person greets the day in a way that makes them feel their best. Each post will chronicle how that person defines healthy for themselves, and the habits and recipes that make their morning a little bit better.
We first met Hannah Black and Carla Perez-Gallardo, the artists-turned-chefs behind Lil Deb's Oasis, a year ago this month. We were exploring Upstate New York for our Bite-Sized Guide series. We were immediately smitten with the duo and their vibrant-hued, neon-lit restaurant in Hudson, New York. Smart, sassy, and soulful are words that could be used to describe both the women, their cafe, and their home kitchen.
We checked back in with Hannah and Carla to find out what healthy looks like for two busy restaurateurs, and their idea of the perfect morning. (Sleeping in is involved.)
What Does Healthy Mean to You?
For the first year after we opened the restaurant, we ran purely on adrenaline. We practically didn't eat, except for on our days off — then we would eat a lot. On days the restaurant was open, we definitely didn't sit down to eat. There was always so much to do!
"Not having time" is such a modern concept. How is it possible we don't have time to take care of our bodies and do the most basic of things like eating a meal?At some point in the middle of our second summer we realized we needed to make time for family meal.
Family meal really started when Carla proposed trying out the Whole30 diet craze. Then we actually looked at what Whole 30 required. We scoffed and said, No way, we can't do that. That's when "Whole40" took over. (No, Whole40 isn't an official thing.)
The idea was nothing new: Take the time to eat well-rounded meals that are vegetable-forward and protein-heavy — and eat them sitting down.
Importantly, we have no hard rules and there's no shame. Indulge in a glass of wine or two, yes. You want bread? Have some! We work hard, so there is no point in denying yourself of some of the small pleasures of life.
Our Healthy Morning Routine
Neither of us are morning people; that's probably why we make such a compatible team. When one of us is running late, because she snoozed too long, at least we can rest assured that the other is likely doing the same thing. "Running a little late" is a common text between us.
That being said, the responsibility, and added stress, of running a small business has set both of our clocks back a little in the morning. Most days now, we take turns on who has to open the restaurant at 9 a.m., so ideally every other morning one of us gets to come in a little later. It's important to have a little time for yourself outside of work to keep you human.
(Image credit: Tara Donne)
Hannah: On my mornings off, I like to take it slow. I usually check all of my emails and social media updates before getting out of bed, which, on the perfect day would be like 10 a.m.
A new habit has been to take 10 minutes or so to stretch. My body can really start to feel sore after standing on my feet all day!
I like to take a shower in the morning, too — it really helps to wake me up — and I don't like to get dressed until I absolutely have to. You will find me walking around my house in a robe until it's time to leave. It just feels luxurious!
My go-to breakfast is warm oatmeal with a spoonful of almond butter and a dash of maple syrup, which I usually eat with a glass of grapefruit juice or maybe a cup of coffee. I like to eat my breakfast and watch the news. It's my only time of day to catch up on what's going on outside of work. And, if I can remember, I'll take a few vitamins or supplements to boost my immune system — there's no time for getting sick!
Usually by noon there is some errand to run or some emergency at the restaurant to attend to, but I always try and make my bed and tidy my house before I leave. It always feels good to come back to a clean home after a long day of work.
(Image credit: Tara Donne)
Carla: Once my eyes finally open, I like to drink a large glass of warm water with half a lemon dropped in and a dash of cayenne. It feels good and cleansing, and immediately adds a fresh start to my day, no matter how exhausted I am. It's also supposed to be good for your digestion and immune system.
I have made a recent habit of rolling out my back on one of those thick foam rollers. Even if it's just for two minutes, it is a way for me to make time for my body and be present in it — outside of work, outside of having fun. We even bought one to keep in the restaurant recently, and it's become habitual to find a staff member rolling one out on the fly on the restaurant floor between shifts!
I'm not much of a breakfast person, but when I do make the time I love a power smoothie with almond butter, oats, and dates. I also love a good hearty breakfast salad with poached eggs, a variety of seeds and sprouts, and whatever seasonal produce I have on hand (and ideally bacon!). But most of the time, I'll sneak a corn masa pupusa when I get to work or snack on Kelp Krunch, the best seaweed/sesame energy bar around!
Also, the most important priority before leaving the house is making my bed. It's become a nearly religious practice to leave it neatly tended so I can later collapse into it after 15 hours on my feet!