3 Things Cooking Has Taught Me About Happiness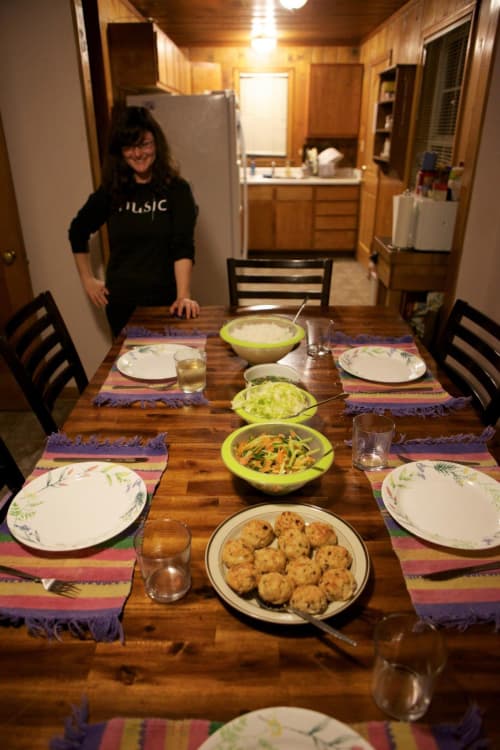 (Image credit: Kelly Ballweber)
As I near the end of my 20s, I'm looking back at what cooking has meant to me in this last decade. It's tied me to places and people, kept me breathing through tough times, and provided a creative outlet when other doors were shut in my face. Food and cooking have saved me in so many ways, and taught me so much.
Here are three things that cooking has taught me about happiness — in and out of the kitchen!
(Image credit: Kyla Knox)
The walk down the memory lane starts off with a stumble — at 21, I went through my first major, awful breakup. My high school sweetheart and I had taken up the dubious yoke of a long distance relationship, since I was staying in California while he went out to the Midwest for college. Every couple months, I'd fly to Chicago or he'd fly home on school break, and we'd have these pained reunions that were rife with drama and miscommunication. I never felt like I was getting it right. We grew further and further apart, our interactions growing meaner and more contemptuous as the years dragged by and wore our relationship down to something totally unrecognizable and sad.
The months after we ended things were some of the hardest times in my life. It was fall quarter of my junior year of college, and I couldn't sleep, I couldn't focus on anything, my emotions were all over the place, and it seemed like I would never love anybody ever again. On top of all of that, I'd totally lost my cooking mojo.
When things were good between the two of us, I was inspired to cook up his favorite comfort foods, put together romantic picnics — cooking was often how I expressed my love. But when the relationship got rocky, so did my kitchen confidence. I remember one of the last meals I'd made for my ex while we were still together, a positively disgusting "Dinner Loaf" courtesy of The Magical Loaf Studio, a vegan recipe generator. I'd second-guessed every ingredient choice and ended up with a mushy, bland disaster. He took one bite and spit it out into a napkin. I was crushed.
For the first few months of my new and scary singledom, I was still hesitant and unsure of myself in the kitchen. I felt as alone there as I did in love — nobody to lean on, nowhere to take inspiration from. The recipes I'd made for my ex, pot pies for two and other comforting favorites, were all spoiled with bittersweet memories. I desperately missed cooking out of love, nourishing others, but I didn't know how to get back to a place where I could do that.
My saving grace came in the form a new friendship. Sam was a cellist and a ray of sunshine — I'd be walking down the dull gray, dungeon-like corridors of the music building, and suddenly hear "BEANS!" yelled from yards away. This was his nickname for me — the kinda cute "Cocoa Beans" had quickly devolved into this much less girlie-sounding variant, much to my chagrin. As much as I disliked the nickname, though, I couldn't help but smile every time I heard it. Sam's energy was infectious.
We got to chatting more and more, and quickly found that we both had a passion for food and cooking. Our friendship begat a tradition that continued for the rest of our tenure at UC Santa Cruz: Vegan Wednesdays. Each week, we'd decide on a theme (a color, a geometric shape, a cuisine), and anybody who wanted to contribute to the potluck would bring their dish to the music building lobby at noontime. We always had plenty of food for whoever wanted to partake, and it was usually fantastic.
This reason to get creative, to feed people, got me back on my feet again. Seeing the smiles on my friends' faces as they enjoyed a particularly awesome batch of cilantro hummus or demolished a plateful of samosas — that was love to me. It made me so happy to see my friends smiling, bellies full of nourishing, vegan meals. I cherished that feeling, and it carried me through.
3 Things Cooking Has Taught Me About Happiness
I think the things I learned over those early days of cooking and finding my feet as a young adult have turned into steadying principles since then.
1. If you feel like you just can't win, like nothing you do is right, something needs examining.
There's no need to keep banging your head against the wall, my friend. It's time for a change.
2. If cooking isn't making your audience happy (and it usually does), it's not you, it's them.
Well, sort of. It's probably something under the surface. It's probably something that has absolutely nothing to do with cooking and food.
(Image credit: Kelly Ballweber)
3. Have you found people that enjoy and appreciate you and your food? Then keep on sharing the love!
There's just about nothing that makes me happier than sharing food with friends and loved ones. The contented quiet that descends on a backyard of folks eating fresh strawberry cake with cooked vanilla frosting? That's love.
I'd love to hear your own stories of what cooking has taught you about life, love, and happiness!