What Can I Do With Turkish Coffee (Besides Make Coffee)?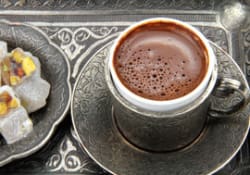 Q:
I recently returned from a trip to Turkey, along with 250g of Turkish coffee (about 2 cups). I have an ibrik and love making Turkish coffee, but wondered if there was anything else I could do with it considering how finely ground it is. Thoughts on recipes?
Sent by Hillary
Editor: Puddings and ice creams were the first things that jumped to my mind!
Readers, what ideas do you have for cooking or baking with Turkish coffee?
(Image: Hayati Kayhan/Shutterstock)