What Do Teal Pumpkins Mean on Trick-or-Treat Night?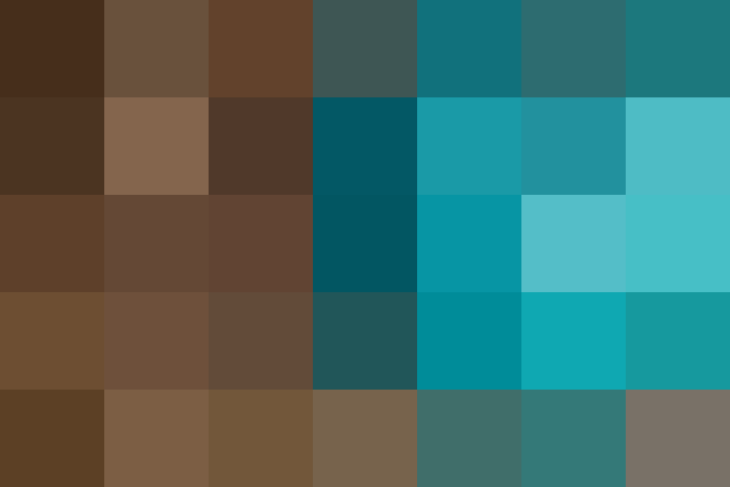 Have you noticed a proliferation of teal-hued pumpkins adorning the steps and porches in your neighborhood? No, you haven't stumbled into a particularly ardent enclave of Martha Stewart acolytes. These bright turquoise jack-o'-lanterns, whether a simple paper cutout or an actual pumpkin that's been given a fresh coat of paint, indicate a home that is participating in the Teal Pumpkin Project.
What Is the Teal Pumpkin Project?
A relatively new nationwide initiative dedicated to making Halloween safe and fun for all kids, the Teal Pumpkin Project is the brainchild of Becky Basalone, the mother of a child whose severe food allergies made navigating the Halloween landscape a literal minefield.
To enable her son and his big brother to participate in the fun of Halloween, Basalone swapped the candy bowl for a treat bucket, handing out small toys and other non-edibles as well as allergy information cards. To alert other families in her Tennessee neighborhood that it was a safe place for kids with allergies to stop, she painted one of the family's pumpkins teal — the color of allergy awareness.
Her efforts came to the attention of Food Allergy Research & Education (FARE), who took the project national in 2014 and, since then, the initiative has really taken off, as evidenced by the "fever map," an interactive map that shares the locations of households taking part in the Teal Pumpkin Project. "There were 1,500 registered participants on FARE's crowd-sourced map in 2014, and that number grew to 10,000 in 2015," says Lois Witkop, chief advancement officer at FARE.
This year is expected to be the biggest year yet. That's thanks in large part to partnerships with Michaels, CVS, and Oriental Trading, which have contributed to a greater awareness of the movement as well as more visibility at the retail level.
Why the Teal Pumpkin Project Matters
Katie Workman, author of Dinner Solved and founder of the Mom 100, has multiple food allergies, and well remembers her own days of trick-or-treating, when her stash would be reduced to a pittance once all the potentially dangerous treats had been eliminated. "Let's just say that my loss was my mother's gain," she notes wryly, although she does concede her younger sister was a good sport about trading.
Today, however, many families dealing with allergies prefer to sit the holiday out rather than risk inadvertently exposing their kids to allergens. "Even if it's just a few in a hundred, it's scary to imagine those kids out collecting candy 'just for fun' when the candy is life threatening," says Heather Christo, the author of Pure Delicious, an allergen-free collection of recipes she developed to manage her young daughters' and her own food allergies.
And food allergies certainly seem to be on the rise, especially among children. "It is a real issue," says Christo. "I know just in my older daughter's class of 23 there are six kids with food allergies, three of whom have nut or peanut allergies. And besides the nut and peanut allergies, there are the celiacs and the kids sensitive to gluten and allergic to dairy and soy."
With childhood obesity a matter of ongoing concern in our country, the time seems especially ripe for an alternative to the non-stop sugarpalooza Halloween has become. "Our main focus is, of course, making Halloween happier and safer for kids with food allergies," explains FARE's Witkop. "But the added benefit is that it's also great for overall wellness. We are excited that organizations like the American Diabetes Association are getting behind this campaign and promoting the positive messages around health, inclusion, and wellness."
How to Participate in the Teal Pumpkin Project
To take part, all you need to do stock up on non-food treats, making sure to keep them separate from any candy items to avoid contamination. Let people know you're on the teal train by tagging your home on the fever map, or by displaying a signature blue jack-o'-lantern where it's visible to passersby.
FARE'S website offers everything you need to get involved, from downloadable signage and templates for carving pumpkins to ideas for treats and shopping links, plus an extensive FAQ section. So this Halloween, when it comes to trick or treating, remember teal is the new orange!
Published: Oct 17, 2016