I Went to Trader Joe's for the First Time. Here's What I Bought.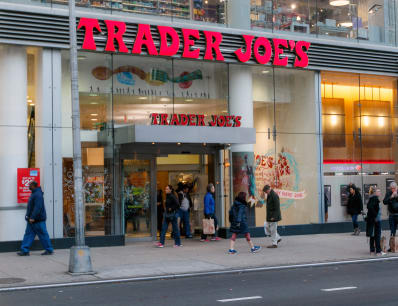 (Image credit: Roman Tiraspolsky/Shutterstock)
This week was a milestone for me: After years of hearing how awesome Trader Joe's is, I finally had my first experience at this fan-favorite supermarket. Read on to learn more about my experience and what I picked up while I was there.
Spoiler alert: Yes, it was pretty awesome.
First, let me begin by saying that this wasn't my first time entering a Trader Joe's. I had been inside before — once, during the post-work rush hour and it was so bananas that I put my groceries back where I found them, turned around, and exited quickly. That was more than five years ago.
I recently moved to a new neighborhood and on my commute I walk past a Trader Joe's every single day. Twice! So, on a day when I had left work a bit early, I decided to brave the madness once again — mostly because I had just been reading about a $4 pinot that was supposed to be reasonably good.
It was busy but not too busy, and although I learned that the store I was in did not stock wine (only beer) I decided to stick around and shop awhile. I had exactly $20 in my wallet, and I spent exactly $19.58. Here's what I bought.
Pork Gyoza Potstickers, $3 for 16 ounces: Kitchn has raved about these potstickers before, so this is one item I knew I'd pick up. For $3, how could I not? Dinner is literally in the bag.
Petite Peas, $1: I basically only ever buy frozen peas, rather than fresh ones, and I almost always have some in my freezer because they're an easy way to add some green to any meal. These guys are advertised as being sweeter and more flavorful than regular peas — and they're just so darn cute!
Shelled Edamame, $2: I have been known to eat an entire package of edamame for dinner (stir-fry with garlic, ginger, sesame oil, and red hot chili flakes), but they're better if you have the patience to make some rice to go with. With or without rice, this is one of the cheapest ways to make a single-person dinner you can feel reasonably okay about.
Organic Virgin Coconut Oil, $5 for 16 ounces: This coconut oil was purchased specifically for these morning glory breakfast cookies (which I made! And they're delicious!). I debated getting the triple-filtered version, but ultimately I went with virgin. It seemed to do the trick!
European Style Cultured Butter, $3 for 8.8 ounces: I'd heard Trader Joe's cultured butter is awesome and the price is definitely awesome compared to other cultured butters. Plus, I was looking for some different butters to give to my sister for the holidays (to go with this French butter keeper). It's even made in France!
Garlic & Herb Stuffed Brie, $5 for 1/2 pound: This was a total impulse buy. I almost picked up some Pirate's Booty, but I decided I wanted real cheese. They were sampling this garlicky, herby brie with rice crackers and it really it the spot.
So, how did I do? Anything I missed? What should I buy next time?
Kitchn supports our readers with carefully chosen product recommendations to improve life at home. You support us through our independently chosen links, many of which earn us a commission.