Welcome to the Summer of Skewers
We
independently
select these products—if you buy from one of our links, we may earn a commission. All prices were accurate at the time of publishing.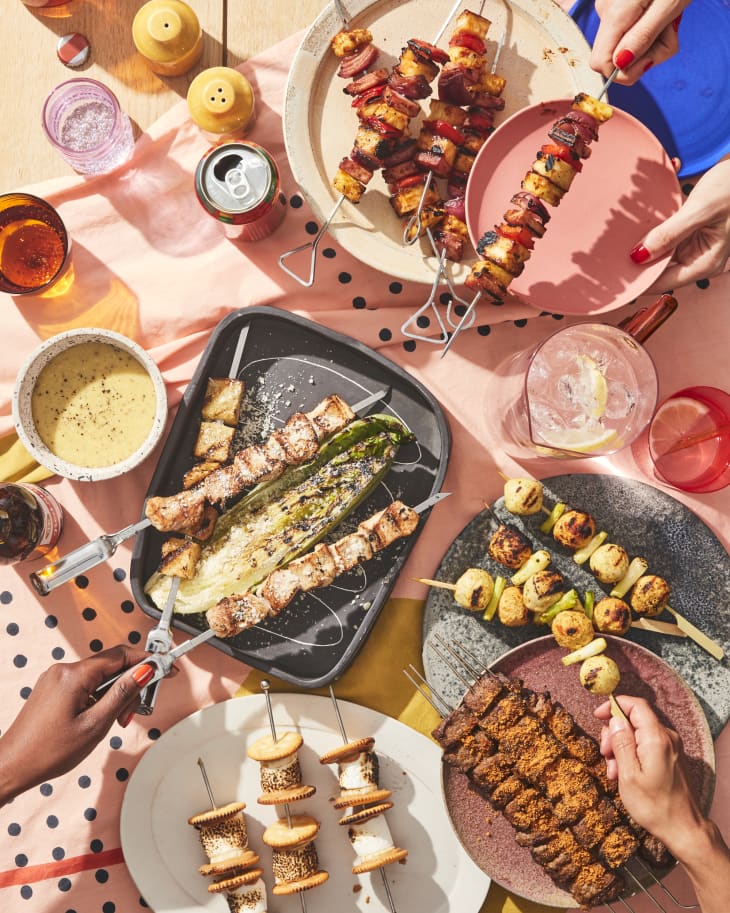 There's something very satisfying about threading ingredients on sticks, then grilling them to smoky, grill-marked perfection. The power of the skewer also lies in the possibilities. You can do all veggies, all meat, all bread, or even all cheese — or a combination of all of those things so you can build your perfect handheld meal. Street food around the world speaks to the joy that skewers spark, as well as state-fair fare here in the U.S. (Prime example: There are 69 options for food on a stick at the Iowa State Fair.)
To bring some of this joy to your summer, we reached out to some of our favorite food folks to get skewer recipes that they're excited to make this year. There are fish balls inspired by Hong Kong street food, Nigerian beef suya, salad and pizza on a stick, and a fun s'mores upgrade.
With all of these awesome options, you should check to make sure that your grill is in tip-top shape and that you have all the grilling gear you need because you're going to be cooking up stuff on sticks all season long.
Curry Fish Ball Skewers
In this riff on the classic Hong Kong street food, store-bought fish balls are threaded with scallions and then brushed with a coconut curry sauce. They make a great appetizer or light main dish, or you can serve the skewers with lettuce leaves, herbs, and cucumber so guests can slide the fish balls off the skewers to make lettuce wraps.

Beef Suya Skewers
Nigerian suya, a spicy grilled meat skewer that's popular in Nigeria and other parts of West Africa, is the inspiration behind this delicious recipe. The suya spice — ground roasted peanuts, ginger, garlic, onion powder, cayenne, and paprika — is used to marinate the meat and is also sprinkled on the skewers when they come off the grill.
Hawaiian Pizza Skewers
It's the pizza you love (or love to hate), in skewer form! Salty ham, tangy-sweet pineapple, grill-friendly halloumi, red peppers, and red onion team up for a skewer that has a little something for everyone.
Chicken Caesar Salad Skewers
This summer, think outside the bowl! Chicken and croutons are skewered and grilled, and then halved romaine hearts spend some time on the grates. Serve with homemade Caesar dressing and plenty of grated Parm.
S'mores Skewers
We couldn't forget dessert! Here, Ritz crackers stand in for the graham crackers, banana slices and swipes of peanut butter are added to the mix, and the marshmallows are stuffed with chocolate chips so they get all melty on the grill.