Weelicious Lunches by Catherine McCord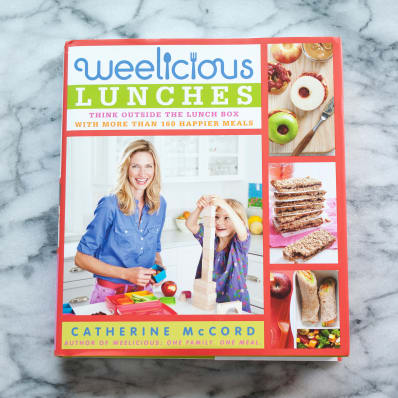 More than anything else, I think parents need ideas for what to put in their kids' lunches. Heck, it's hard enough coming up with interesting things to eat ourselves — doing this for small humans with their very own and very loud opinions is an even greater challenge. Help is here! It comes in the form of Catherine McCord's latest book of kid-approved foods, Weelicious Lunches. Lunchtime? Game on.
Quick Facts
• Who wrote it: Catherine McCord
• Who published it: William Morrow
• Number of recipes: 160
• Recipes for right now: Beet Carrot Salad, Chicken Soup with Rice, Eggplant Burgers, Pizza Balls, Beany Cheesy Burritos, Crispy Chicken Bites, Tex Mex Rice Cakes, Roasted Carrot Hummus, Fruit and Seed Bars, Baked Whole Wheat Raspberry Doughnuts
• Other highlights: It's hard to imagine looking through this book and not finding something that looks good for lunch — even adults! With chapters focusing on everything from soups and sandwiches to dips and snacks, Catherine McCord walks us through just about every possible permutation of "lunch" that she can think of. There's even an entire chapter devoted to riffs on PB&J!
Two things stand out to me in particular: first, the fact that every recipe is so visually engaging — bright colors, interesting shapes, engaging layers — and second, the fact that the recipes are all perfectly portioned to fit in a lunchbox. This second point might seem obvious for a book about kids' lunches, but it's just so handy to have the guess work of portion sizes removed for us. Plus, kids will never have to deal with how to eat an awkward slice of casserole or overly-messy sandwich.
The recipes also vary in terms of how much actual cooking is involved. Some of them can be assembled in minutes from a handful of raw ingredients, while others can be made on a lazy weekend afternoon for the week ahead. It's easy to page through the book and find recipes to suit your time and what you have in the fridge. There are also plenty of ways that get children can involved in making their own meals, from rolling up a sandwich wrap to cutting out pizza rounds.
If you're a parent who finds it challenging to make a daily lunch for your kids, this is definitely a book you'll want on your shelf. Catherine McCord is like a magic godfairy delivering fresh ideas and warm encouragement day after day.
• Who would enjoy this book? Parents with grade-school-age children, after-school caregivers and babysitters, personal chefs.
Find the book at your local library, independent bookstore, or Amazon: Weelicious Lunches by Catherine McCord
Apartment Therapy Media makes every effort to test and review products fairly and transparently. The views expressed in this review are the personal views of the reviewer and this particular product review was not sponsored or paid for in any way by the manufacturer or an agent working on their behalf. However, the manufacturer did give us the product for testing and review purposes.
(Images: Emma Christensen)
Kitchn supports our readers with carefully chosen product recommendations to improve life at home. You support us through our independently chosen links, many of which earn us a commission.