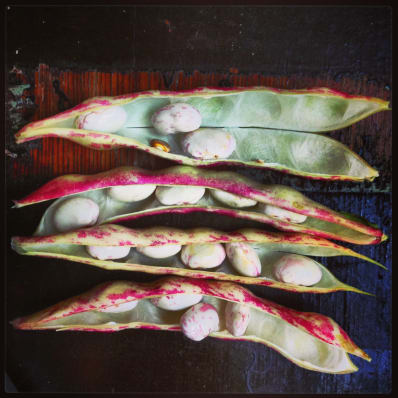 Have you ever noticed how things, even ordinary things like a cup of coffee or a pile of oranges or a messy array of beans, are more interesting when you're on vacation or visiting somewhere new? This may be because, well, just about anywhere on earth is more interesting than where you live. Or it could mean that you're looking at things through 'holiday eyes.' Let me explain.
The other evening I was sitting in the back of a new restaurant with some good friends. The room was airy and open, with large, gauzy-curtained picture windows that filtered the early evening light. The wooden tables were bare except for simple white cloth napkins and long stemmed wine glasses. Quiet, bluesy jazz was playing, the front door was open and a breeze gently stirred a large, messy bouquet of flowers placed by the entrance.
Just on its own, this kind of setup could easily bring up a sense of appreciation, especially when the food arrived and all five senses were pleasantly engaged. But after a few bites of perfectly cooked asparagus, I set my fork down, really focused on my surroundings, and did something I often do these days: I imagined that I was in a foreign country, somewhere I have never been before. I looked around at the details of the room and at the people, noticing little things like the bird pattern hidden in the wallpaper and the flecks of gold in our waiter's eyes.
And what was already a pleasant experience deepened and a bubble of joy began to hum inside of me. I slowly ate some more of the delicious asparagus, smiled at my friends and let the whole experience thoroughly register. Even though I had used the trick of pretending that I was somewhere else, the truth was I was never more completely engaged with my surroundings, and myself, as I was at that moment.
Seeing the world through holiday eyes simply means looking closer, deeper, opening up and allowing in, just like when we're traveling and the whole world seems brand new and interesting. It means being totally available to astonishment and delight. Holiday eyes ask that you step aside from habit and assumptions and find a fresh new way to welcome in the moment.
It doesn't necessarily take a nice restaurant to feel this way. You can put on your holiday eyes while walking down the street, passing the same trees and buildings you do everyday. Or in your kitchen as you slice up yet another onion, the morning light falling across your chopping board. Or in the grocery store as you wander through the produce section, staring at the piles of tomatoes and lettuces.
It's not that I never hope to travel again and experience new people and places or new tastes and sounds and sensations. But now that I know to look at everything as if it were brand new, I can always have a chance to capture the awe and delight of being human and alive on this beautiful, beautiful planet.
PS For those of you who are wondering what restaurant I was describing above, it's an establishment located in the Mission district of San Francisco called Heirloom Cafe.
* * *
I hope you enjoyed this encore Weekend Meditation, originally posted in June 2010. I will be posting these vintage posts every Sunday (with the occasional new post, if I can manage!) for the next several months while I focus on writing my first book.